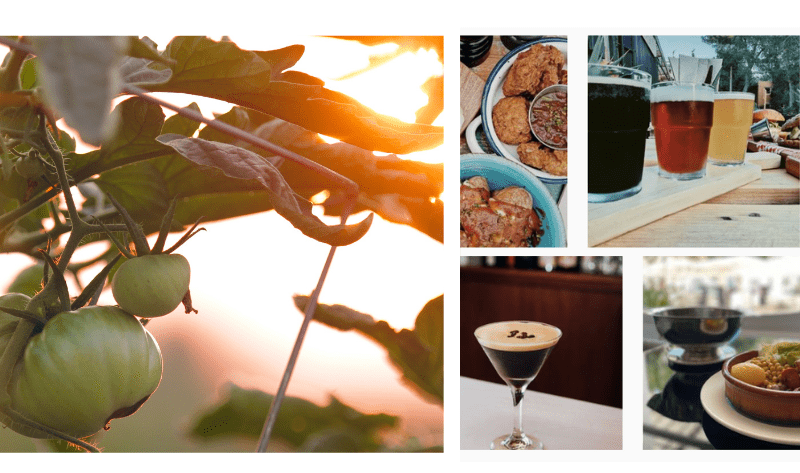 Ibiza in winter: 8 times the best off-season restaurants
Celebrating Indian summer, fall or winter in Ibiza? These restaurants are open all season!
Ibiza in Winter: 8 times the best restaurants for your perfect late summer
Winter in Ibiza? Of course! Where England seems to skip summer this year, Ibiza will still be shrouded in warm rays of sunshine in the coming months! October, November and December are secretly wonderful months to enjoy the island in peace. The perfect indian summer that we can all use, especially this year. The great thing is that even in autumn there are still plenty of nice places to enjoy a delicious lunch or dinner with friends & family. In this blog you'll find 8 times the best restaurants in Ibiza that are open all winter!
Ibiza in Winter, our favorite hotspots of 2021 are:
Higo @ Santa Eulalia
Overall @ Santa Gertrudis
CBbC Ebusus @ Ibiza
Las Dalias Café & Restaurant @ San Carles
L'Atelier Numero 74 @ Santa Gertrudis
Es Birra @ Es Caná
Olivia's Ibiza Kitchen @ Santa Gertrudis
La Paloma @ San Lorenzo

1. Higo
You can now discover the unique Nikkei cuisine in the port of Santa Eulalia. The special mix between Peruvian and Japanese cuisine makes this definitely a must try. This place is stylish with a nice relaxed vibe. Perfect for a romantic evening together. Or a nice lunch with friends on the terrace. Amazing that this place is open all winter!
Higo's kitchen uses the best seasonal organic ingredients. The fresh interpretations of Nikkei dishes will surprise your taste buds 100%. Think Truffle Seabass Ceviche, Sake-Caramel Ice Cream and a delicious cocktail. Hmmm what not to like?
Address: Carrer de Sant Joan 38 (patio), 07840, Santa Eulalia, Ibiza
Opening hours: Tues – Sun, lunch: 1:30 PM – 5:00 PM, dinner from 7:30 PM.

2. Overall
The foodie hotspot Santa Gertrudis should not be missed in winter! Meet Overall, a mega cool (cocktail) bar definitely worth trying! This new exciting location is the ultimate place for delicious "sips and bites". Even if you choose to go just for a drink, you have plenty to choose from. From ready-to-drink cocktails made from local ingredients, to delicious natural wines.
Power couple Jorge and Monica complement each other perfectly as the owners of Overall. She cooks the tastiest dishes inspired by South American cuisine, He mixes the best cocktails on the spot. And wait until you see his ice creations… This place definitely deserves a spot on your to do list!
Address: Passeig de Santa Gertrudis 11, Local 3, Ibiza
Opening hours: Mon – Sat, 6:00 pm – 11:00 pm

3. CBbC Ebusus
In the beautiful old center of Ibiza you can enjoy the winter at CBbC Ebusus. Located in a beautiful historic building including an ultimate stylish interior. The vibe is classy yet relaxed. Nice place to go with friends, family or for a business lunch.
The traditional Ibizan cuisine gets a nice innovative touch at Ebusus where top quality fish and meat alternate with delicious pasta and traditional Spanish rice dishes. An elegant place where you are completely comfortable from dawn till dusk and enjoy that late summer lunch in the sun together.
Address: Vara de Rey 20, 07800, Ibiza
Opening hours: Mon – Sat, 8:00 AM – 2:00 AM, Sunday 9:00 AM – 2:00 AM.

4. Las Dalias Café & Restaurant
The most famous Hippie Market of Ibiza also has an incredibly cozy café and restaurant. Here you can celebrate that nice boho atmosphere all winter long. Hidden in a beautiful garden you can enjoy delicious Mediterranean food with influences from India, Thailand and Morocco.
Even in winter there is a relaxed atmosphere here and surrounded by the warmth of the last rays of late summer you can enjoy tasty Veggie Gyozas, Green Thai curry and roasted figs for dessert. Keep an eye on the website, because maybe they will organize their annual Christmas market again this year!
Address: Carretera San Carlos, Km. 12, 07850 Sant Carles de Peralta
Opening hours: Sat from 8 AM – midnight, Sun to Fri from 5 PM – midnight.

5. L'Atelier Numero 74
L'Atelier Numero 74 can be found in the picturesque town of Santa Gertrudis. In addition to being a fine restaurant, it is also a great concept store and craft workshop place. All kinds of creative workshops are organized here for both children and adults.
Baking Christmas cookies with the kids? The best activities are organized here inspired by the season. In the cozy restaurant you'll find delicious homemade dishes: real Grandma's Recipes. If you're looking for comfort food and you don't want to get bored, this is the place to be!
Address: Carrer Venda de Fruitera n°4, 07814 Santa Gertrudis, Ibiza
Opening hours: Mon – Sun, 9:30 AM – 11:30 PM.
Santa Gertrudis
Niet voor niets verblijven veel buitenlanders rondom Santa Gertrudis, het hele jaar door. Dit kleine dorpje is de ideale plek om heerlijk te lunchen en te shoppen in één van de gezellige winkeltjes. Centraal gelegen op het eiland en een must-see tijdens uw vakantie op Ibiza.
Bekijk alle huizen rondom Santa Gertrudis

6. Es Birra
On the east side of Ibiza, close to the hippie market in Es Caná, you will find this laid-back spot: Es Birra. Attention to all beer lovers, Es Birra means 'it's beer'. A good selection is therefore no surprise and makes this the ultimate hotspot with a club of friends. Fan of shared plates? Es Birra combines the tastiest dishes from the US, Asia and Europe. Vegan or vegan? No problem, there is something to choose from for everyone.
Here you are surrounded by a relaxed low key atmosphere at cozy long tables. And last but not least: from Wednesday to Sunday you can enjoy live music by all kinds of different local musicians and artists. Super nice for an evening of fun.
Address: Avinguda Punta Arabi, 228, 07849 es Canar, Ibiza
Opening hours: Wed, 12:00 PM – 1:00 AM, Fri to Tues, 7:00 PM – 1:00 AM.

7. Olivia's Ibiza Kitchen
In the cute little streets of Santa Gertrudis you can visit this nice oasis in winter: Olivia's Ibiza Kitchen. Run by a German family full of passion and love for the island, they are trying to make Olivia's the new arty meeting place. The interior has been carefully composed in collaboration with local artists and therefore also functions as a cool showroom for local art.
In addition to a special arty environment, you can enjoy delicious local and Mediterranean dishes, simple but made with great care. Vegetarian or gluten free? No worries: they have multiple options, from Spanish Rice with fish, Vegan Burgers with beetroot falafel to Lebanese-style Lamb. Their Zero Food Miles policy already makes this place a favorite. Fresh, local and seasonal dishes…, shall we make a reservation?
Address: Carrer de la Venda de Poble, 6, 07814 Santa Gertrudis, Ibiza
Opening hours: Mon – Fri, 07:00 AM – 11:30 PM.

8. La Paloma
In San Lorenzo, a small village in the middle of Ibiza, you will find a beautiful romantic courtyard hidden under the lemon and orange trees. La Paloma: the hotspot among both locals and tourists where you really must have been. Lanterns, freshly picked flowers and delicious organic food, really the perfect combination.
Expect authentic food prepared with a lot of love here. From fresh juices to salads from our own garden, this is Ibiza at its best. In the winter you can also sit inside by the fireplace, so definitely put this spot on your list!
Address: Carrer Can Pou, 4, 07812 Sant Llorenc de Balafia, Ibiza
Opening hours: Monday to Friday lunch: 12:30 AM – 04:30 PM, dinner from 8 PM.
San Lorenzo
San Lorenzo is niet echt een dorpje. Het is in feite 1 kerk met een paar huizen, en het leuke restaurant La Paloma. Verder is het een plek waar veel mooie huizen omheen staan.
Bekijk alle huizen rondom San Lorenzo
*All images on this page are taken from the restaurant's public Instagram pages.