Ibiza holiday villas for large groups
Enjoy your holiday in a spacious holiday homes with lots of privacy in Ibiza. Ideal for large groups and families.
Ibiza villas for large groups, and why holiday homes are better for a large travel party than hotels.
One of the biggest advantages of renting a villa is the extra space. In hotels, you usually only have one room at your disposal, and especially with children, this is not ideal. In addition, villas are extremely private, and you can spend your holidays in complete privacy. There are also many more amenities in a holiday home for large groups. Think; washing machines, bathrooms, a spacious garden, common areas, modern kitchens… almost as if you were in your own home! Your own kitchen also offers healthier dietary options. There are plenty of great restaurants in Ibiza, but it's still nice to have a kitchen at your disposal. Why not enjoy an evening with a private chef, we are happy to help! We offer top quality services including private chefs, but also extra cleaning, shopping service, babysitters but also, for example, an outdoor cinema and more!
All this is obviously perfect for large families, family holidays or vacations with a big group. But there is more, renting a villa with a large travel party is cheaper per person than renting a large number of rooms in a hotel. In addition, as mentioned earlier, you get way more bang for your buck. A villa gives you the freedom to enjoy your holiday the way you want.
In hotels, the group has to split into several rooms, but in a villa, you can really enjoy that special holiday feeling together. To maintain a harmonious atmosphere, it is vital to have enough space for everyone. Hence, we have compiled a list of the most ideal holiday villas in Ibiza for large groups and families. Villas where you immediately feel at home, where you can enjoy all the comfort you need, a place where you can celebrate your vacation together with your loved ones (with the necessary space and privacy) and all this being more cost efficient than a hotel. 
Lovely and affordable villas for large families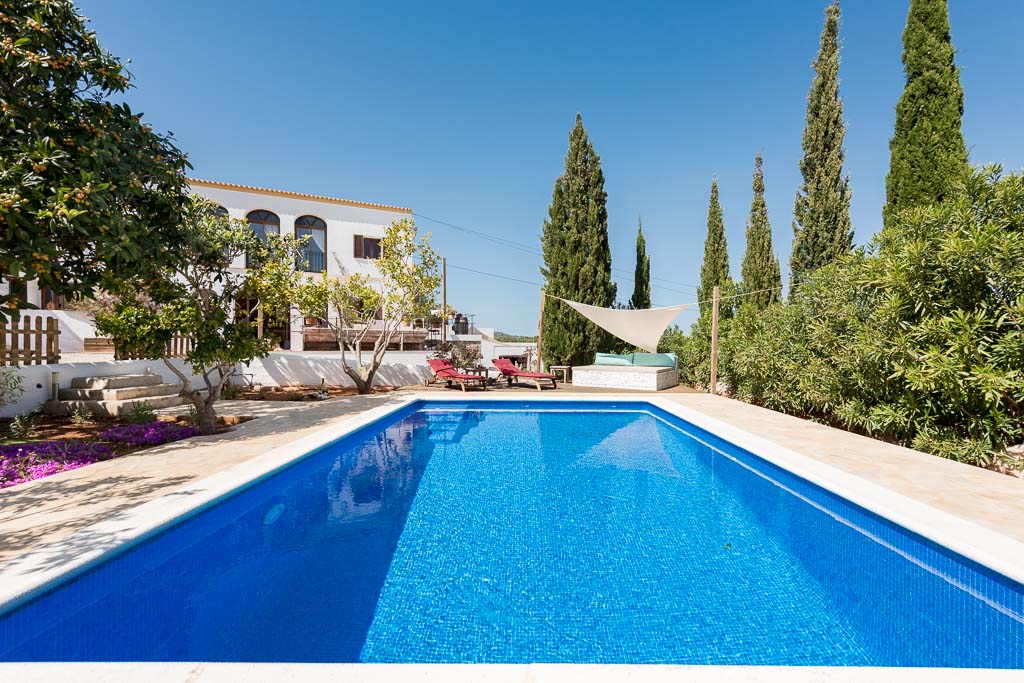 Can Gertrudis is a more than 150-year-old finca and is perfect for yoga enthusiasts or larger groups. Located in the heart of the island, less than a 10-minute drive from Santa Gertrudis, the house has breathtaking views of the area with its antique windmills. Santa Gertrudis is a beautiful and lively town.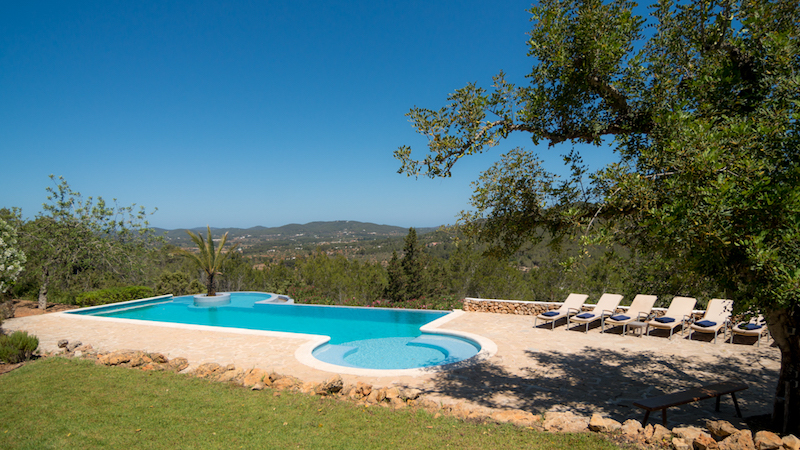 Can Sky is a more than 200-year-old finca and is perfect for large groups. The house is located on a mountain near Santa Eularia and has stunning views over the valley and over the sea. Can Sky can accommodate 18 people and is divided between a main house and a guest house. A group looking for space and tranquillity is in the right place!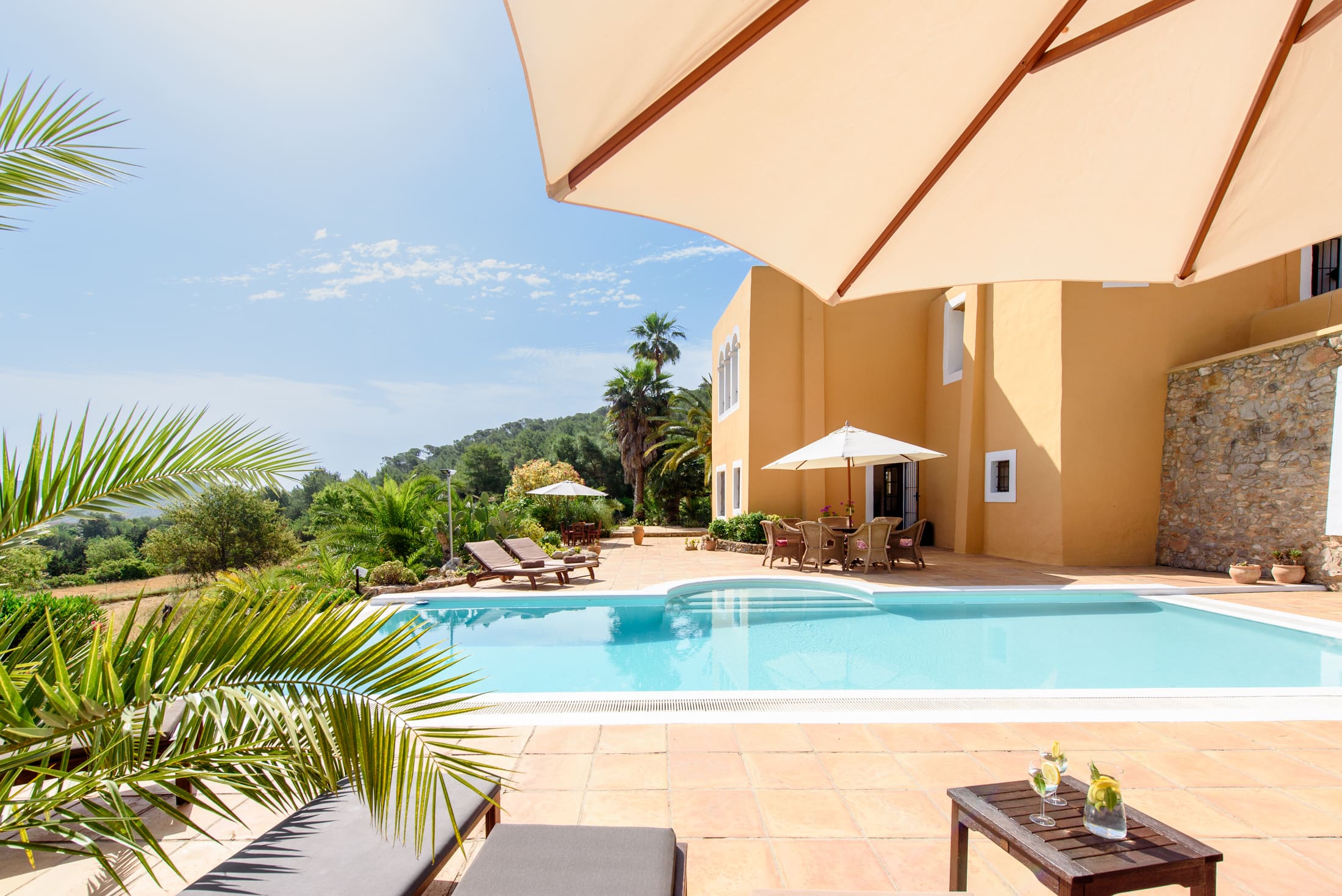 No direct neighbours, a fantastic outdoor space, all in the midst of the beautiful landscape of Roca Llisa. This is Can Pep. The perfect traditional finca to completely unwind. Can Pep is a true Ibiza dream; handmade terracotta tiles, beautiful Sabina wooden ceilings and cosy lounge corners, you are guaranteed to feel right at home here.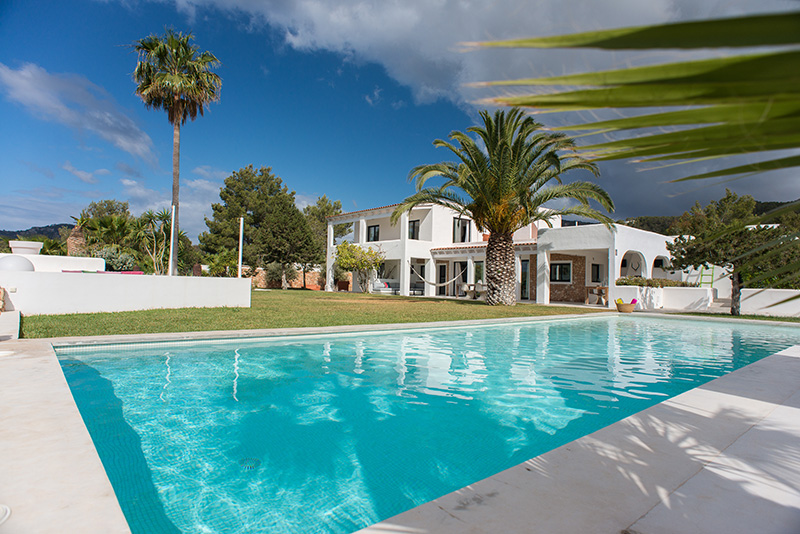 Casa Julie is a beautiful recently renovated villa 7 minutes' drive from Es Cubells, and 8 minutes' drive from Cala Jondal beach, with nice beach clubs like the Tropicana and the Blue Marlin. The house has enormous outdoor space. There is a large swimming pool with luxurious sunbeds, and a relaxing chill corner with soft cushions. The large lawn makes this an ideal place for children.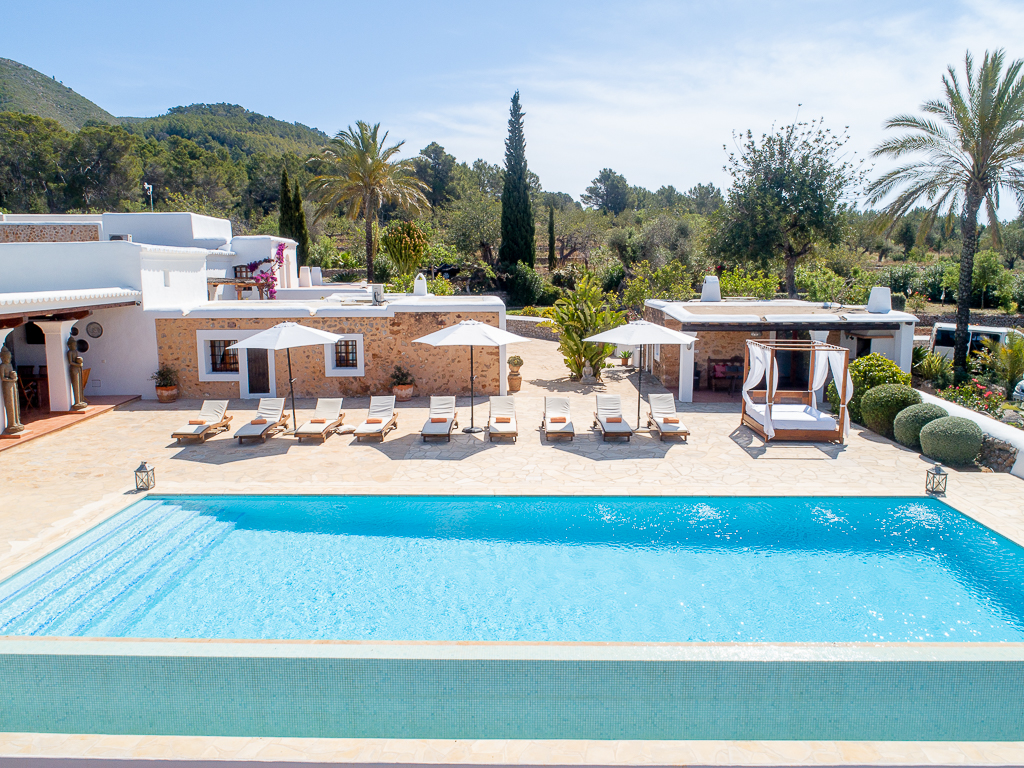 This house has been lovingly renovated, it shows in everything! The house is owned by a family that does everything possible to make your holiday as unforgettable as possible. In addition, the fully renovated, 300-year-old villa gives guaranteed privacy. All the beautiful beaches of the island's north-east coast, are within 10 km and Ibiza town is 15-20 minutes by car. A 5-minute drive brings you to the beautiful agroturismo restaurant Atzaro.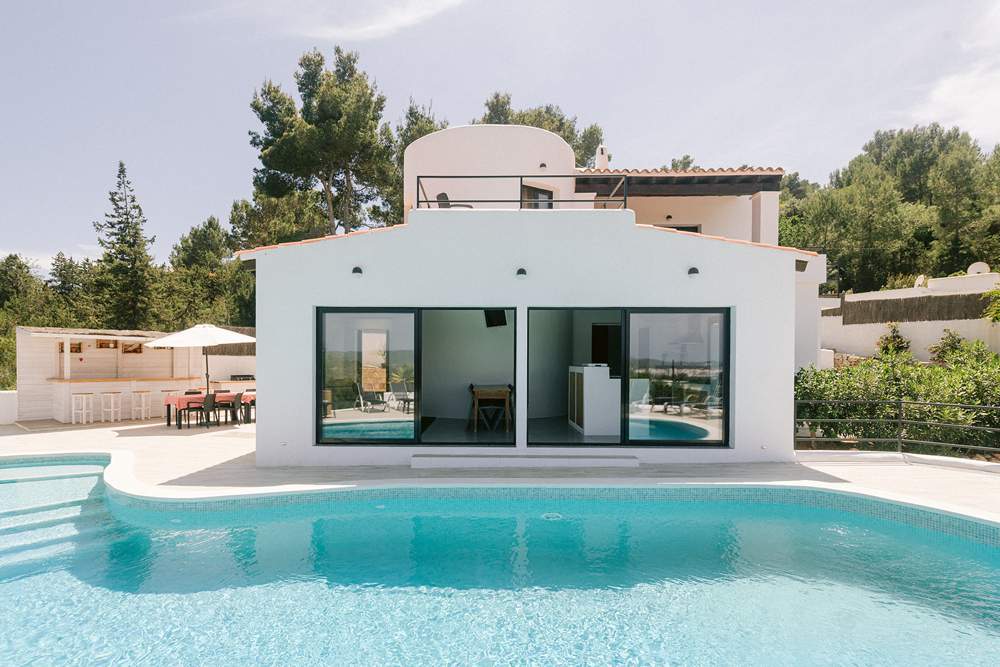 Can Cadiz is a charming finca and is located in the west of Ibiza. The finca is ideal for groups seeking the real unspoiled Ibiza. By the pool, the views over San Antonio bay are phenomenal. The poolside bar is the house's trump card. Beaches like Cala Tarida with the Cotton Beach Club, Cala Conta with the famous restaurant Sunset Ashram and Cala Bassa with its Beach Club are not far away.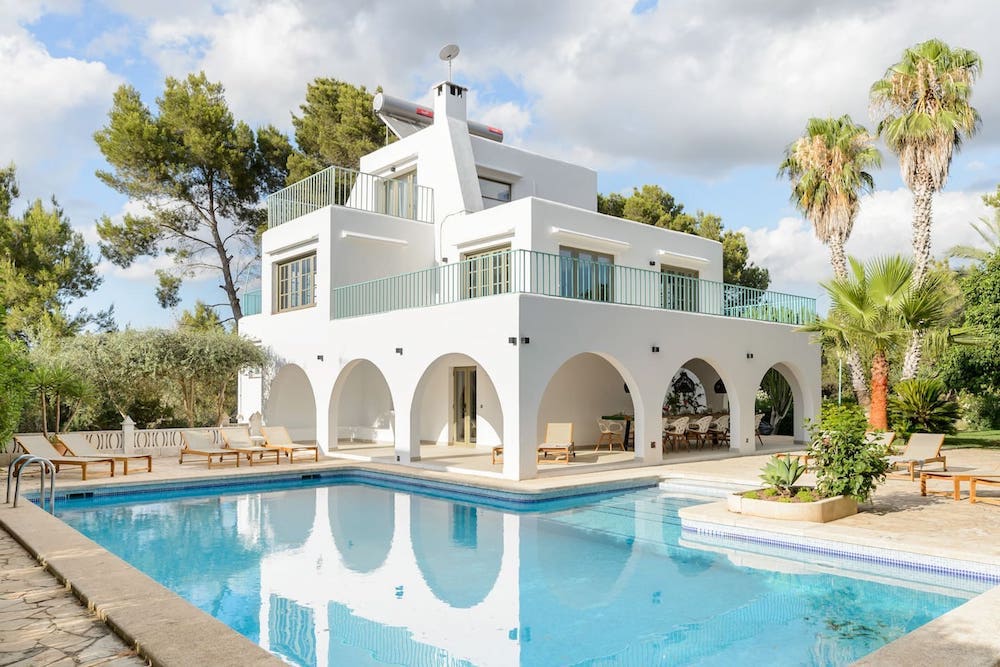 Its central location in the countryside between San Rafael and San Antonio makes Villa Riama an ideal base for exploring the whole island. The beautiful beaches in the west (for example: Cala Conta, Cala Bassa or Cala Gracio) with their beautiful sunsets are only a 10-minute drive away. The lovely villages of Santa Gertrudis and Santa Agnes are 10-15 minutes away, here it's fun to eat tapas in the evening.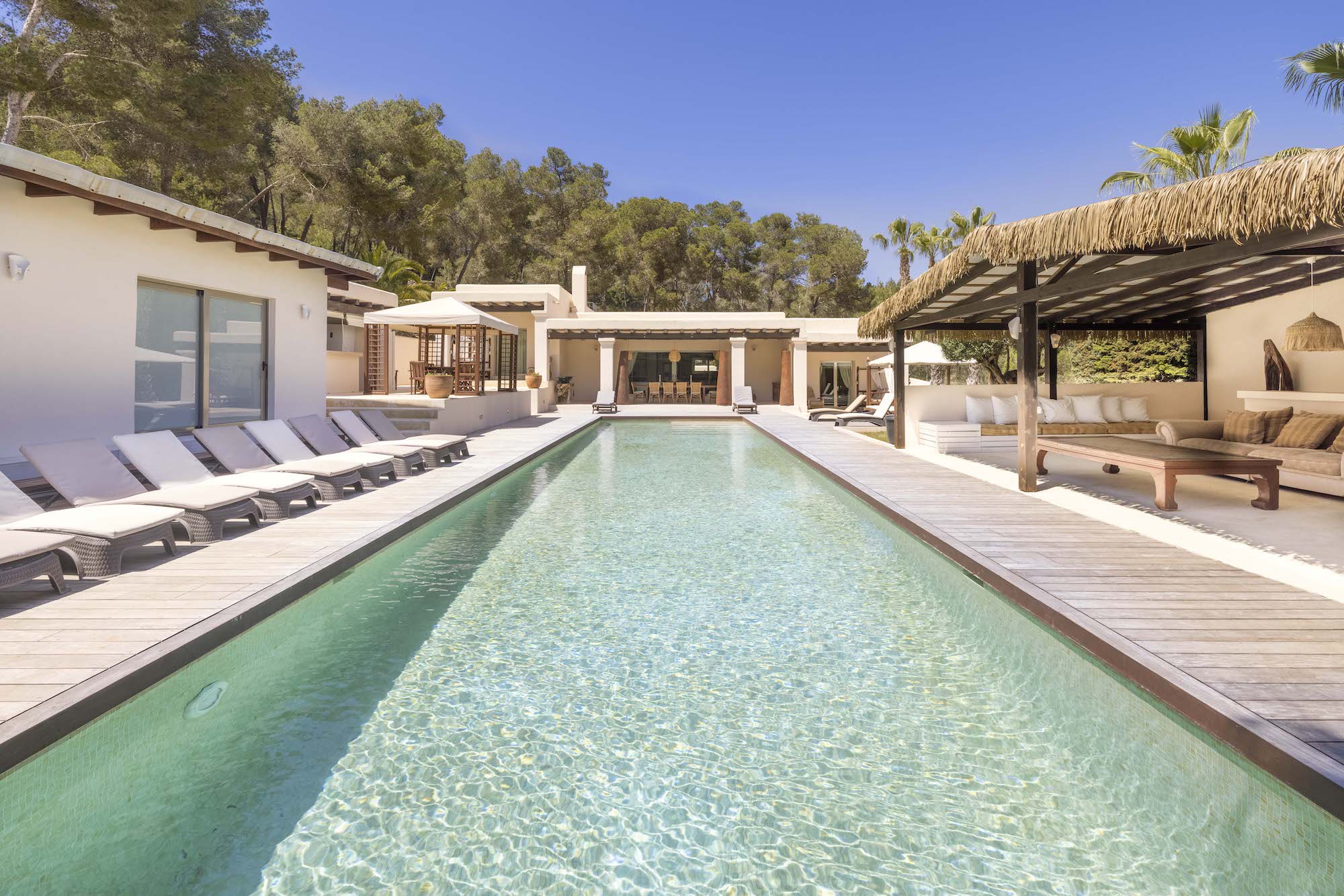 This tropical oasis surrounded by greenery is hidden among the mountains of Ibiza. But not in the middle of nowhere, no! In a prime location, between Ibiza town and Santa Eularia. Casa Tropical is the ideal base for families or groups of friends. The kids can play in the gigantic swimming pool while you relax in one of the many chill spots or under the cabana. If you are more in the mood for a bit of action, you can enjoy the tennis court.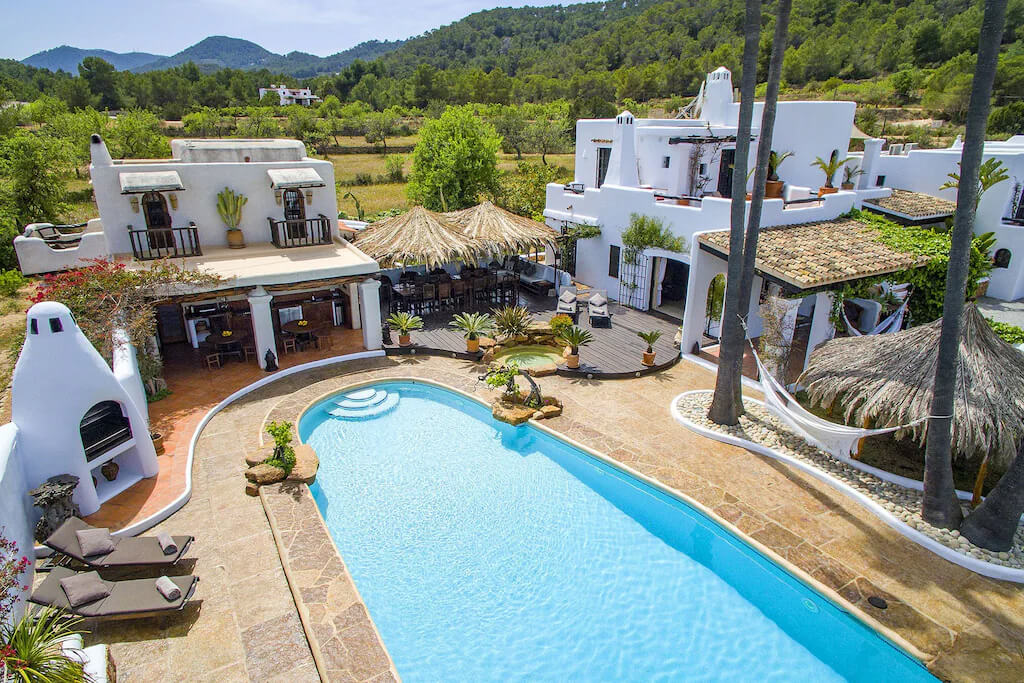 On one hectare of quiet, unspoiled farmland in the mid-south-west of the island, lies the beautiful villa Kate. The villa and flat are ideal for families with children. There is a beautiful swimming pool, extensive gardens, orchards and a large TV chill-out area with videos, games and a pool table. This elegant villa has been beautifully restored by the owners and decorated in traditional Ibicenco style.
Higher-end holiday homes for large groups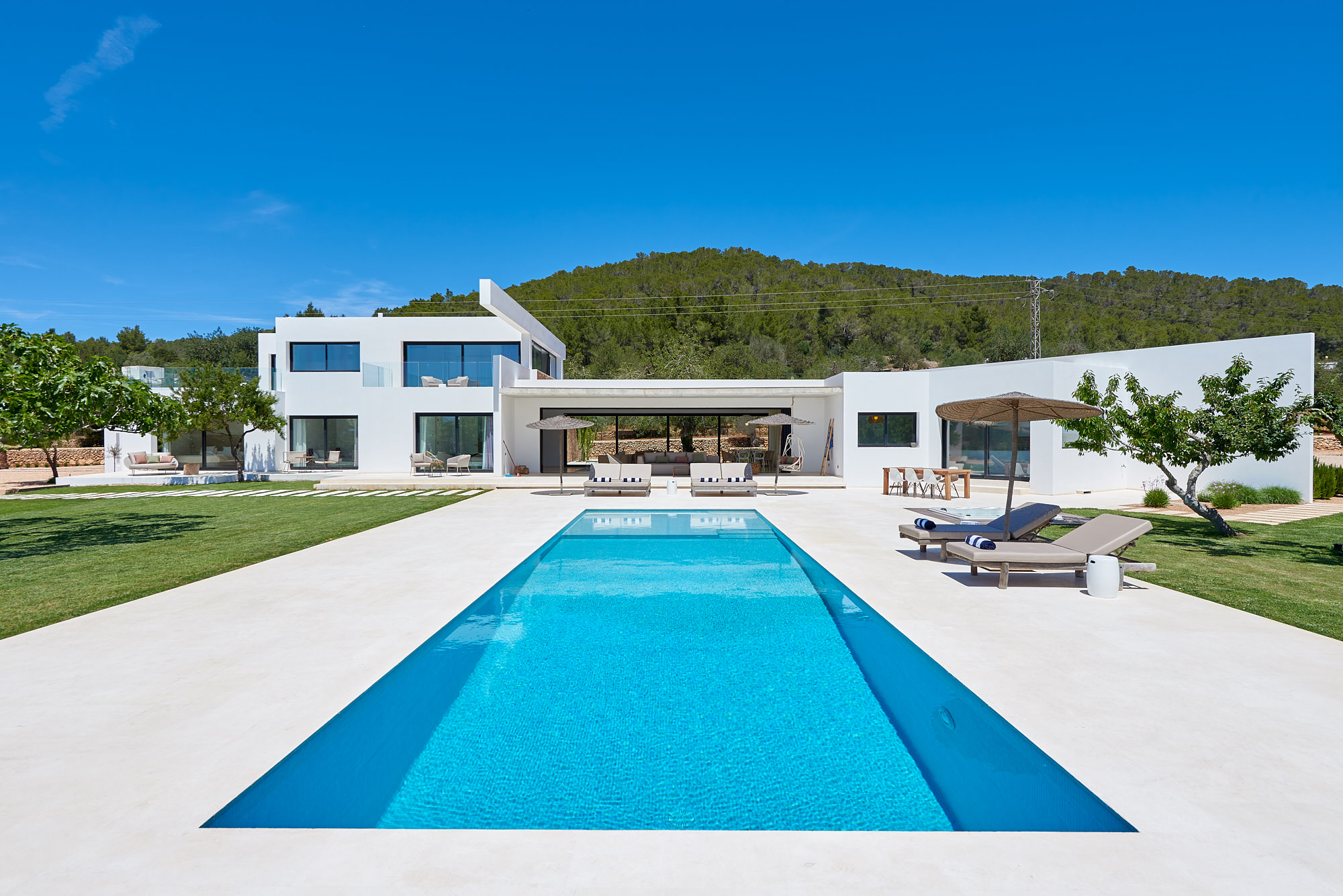 This very spacious and modern 8-bedroom villa for 16 people is located in a very quiet area, 1 km from the picturesque town of Sant Joan. Beautiful beaches on the northern coast, such as Benirrás, are about 15 minutes' drive from the house. Outside the farmhouse on a plot of 17,700 m2 (fully fenced land) you can enjoy several free spaces, you will find the swimming pool 14x4m, outdoor jacuzzi, dining area, barbecue, lawn and some beautiful Mediterranean gardens with fruit trees.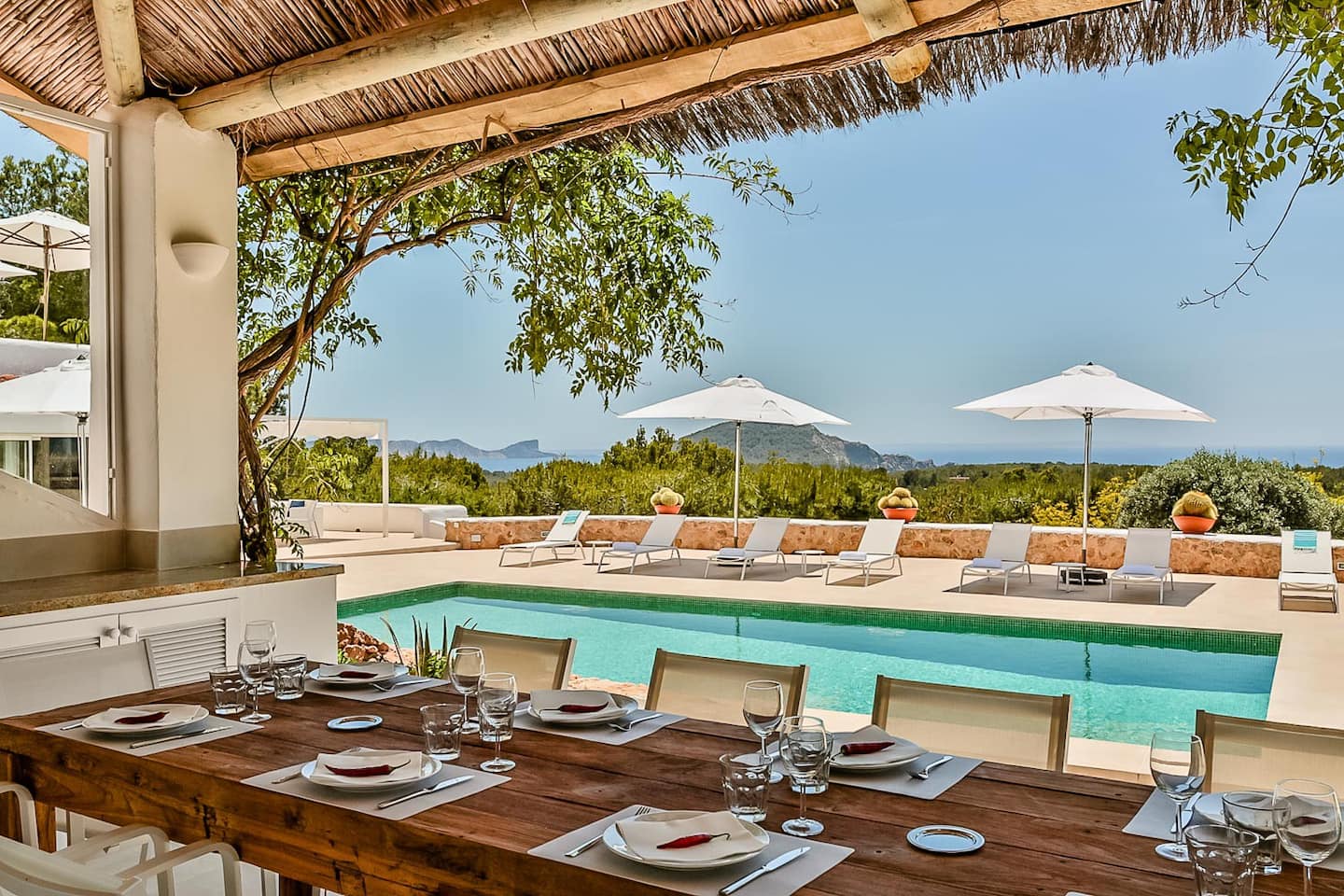 Located in the southern part of Ibiza on the side of the mountain "Puig Redo", Villa Sophia has breathtaking sea views (Cap des Falco and Es Cubells). This is a very well-known area among Ibiza's Jet Set and for holidaymakers looking for peace, privacy and luxury combined with the famous beaches and beach clubs, this is a perfect match! Think Cala Jondal beach with clubs like Blue Marlin, the smaller Sa Caleta beach is just a 10-minute drive away.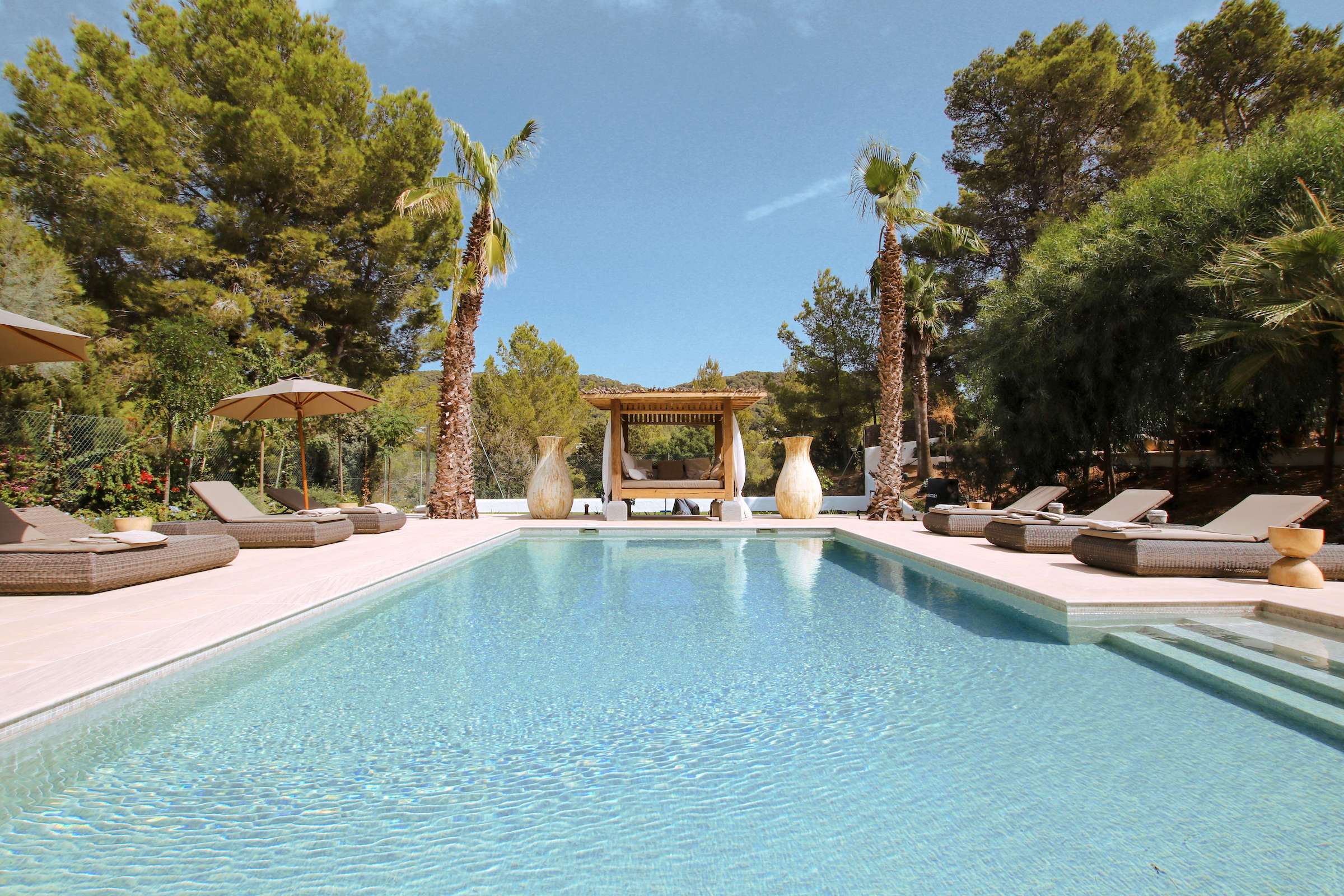 Located near San Jose, just a 5-minute drive from the beaches of Cala Moli, Cala Vadella, Cala Conte, Cala Carbo, Cala d'Hort and Cala Tarida, and 10 minutes from Cala Jondal beach, Can Sheva is in a beautiful and peaceful area. The house exudes peace and quiet and is surrounded by the typical pine trees. In 2022, the villa was completely refurbished with a clear aim: the search for light and an eye for the surrounding nature.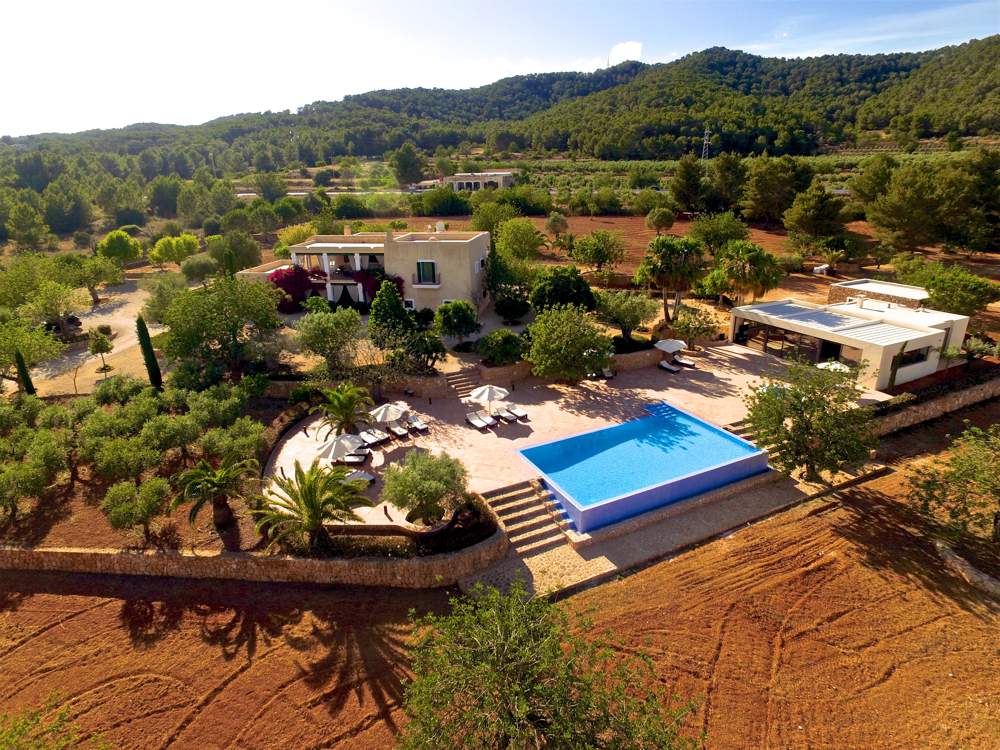 Rafa is a prestigious and spacious villa located on the flat land between Santa Eularia and Santa Gertrudis. The views over the surrounding hills and over Santa Eularia bay are very nice. The nearest town, on the eastern side, is Santa Eularia. Close to the house are several trendy restaurants such as Bambuddha Grove and Nagai, among others. Beaches such as Niu Blau but also Cala Nova are about a 15-minute drive from the house.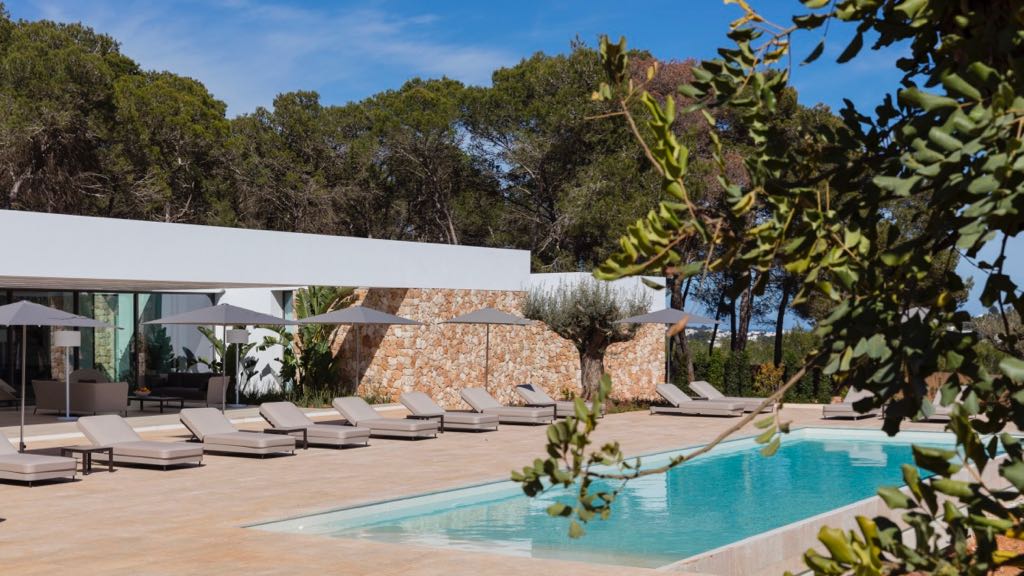 Villa Calme is een grote villa gelegen op het platteland tussen Santa Eularia en Santa Gertrudis. Het huis is recentelijk gebouwd en werd een vakantiehuis om van te dromen. Het uitzicht over de heuvels en de baai van Santa Eularia is erg mooi. De dichtstbijzijnde stad, aan de oostkant, is Santa Eularia. Vlakbij het huis bevinden zich meerdere hippe restaurants zoals o.a. Bambuddha Grove en Nagai. Stranden zoals Niu Blau maar ook Cala Nova liggen op zo'n 15 minuten rijden van het huis.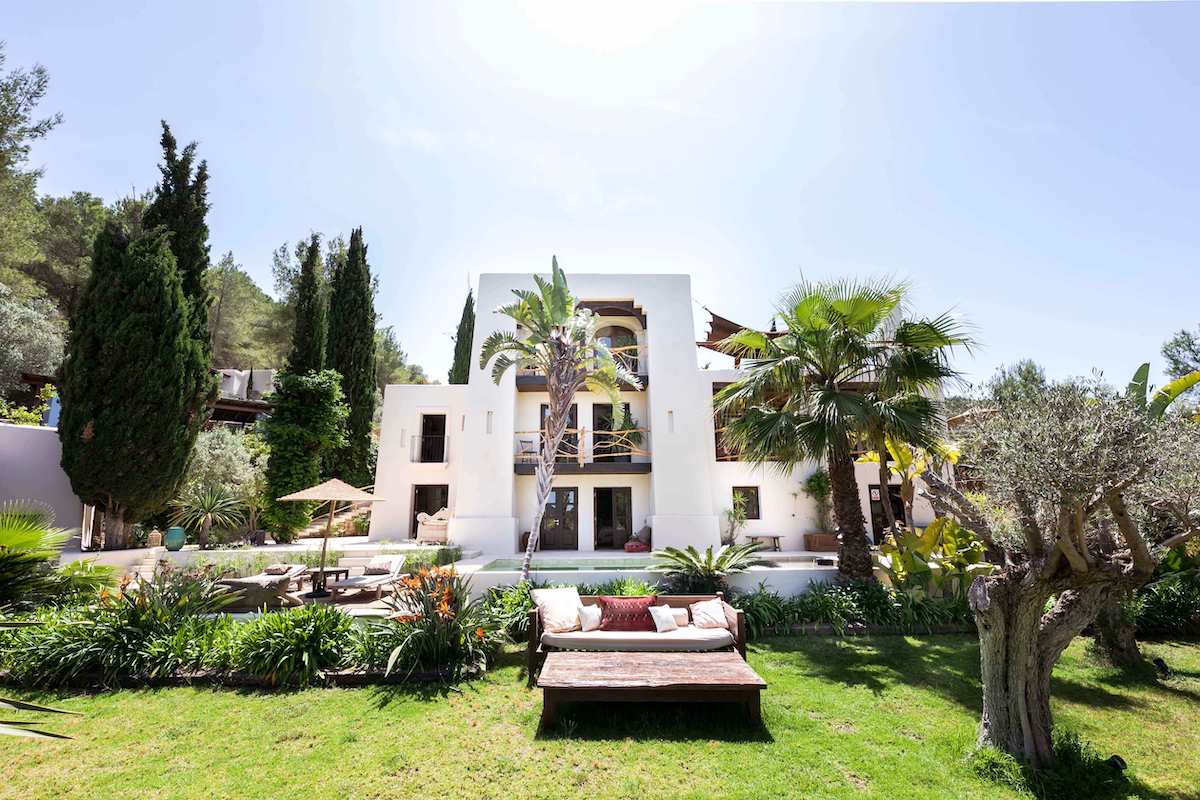 Nestled in a peaceful and pristine forest in the hills of San Miguel, this oasis spacious with tranquillity is called Sermita. This 400-year-old Ibizenco monastery with its panoramic views, waterfalls, fountains and even three Balinese temples is absolutely one of a kind! The carefully decorated rooms have endless chill spots, with antique furniture and art elements from Indonesia, Ibiza and Morocco. Start your day with a refreshing dip in the saltwater pool or the natural eco-pool – yes, there are two pools!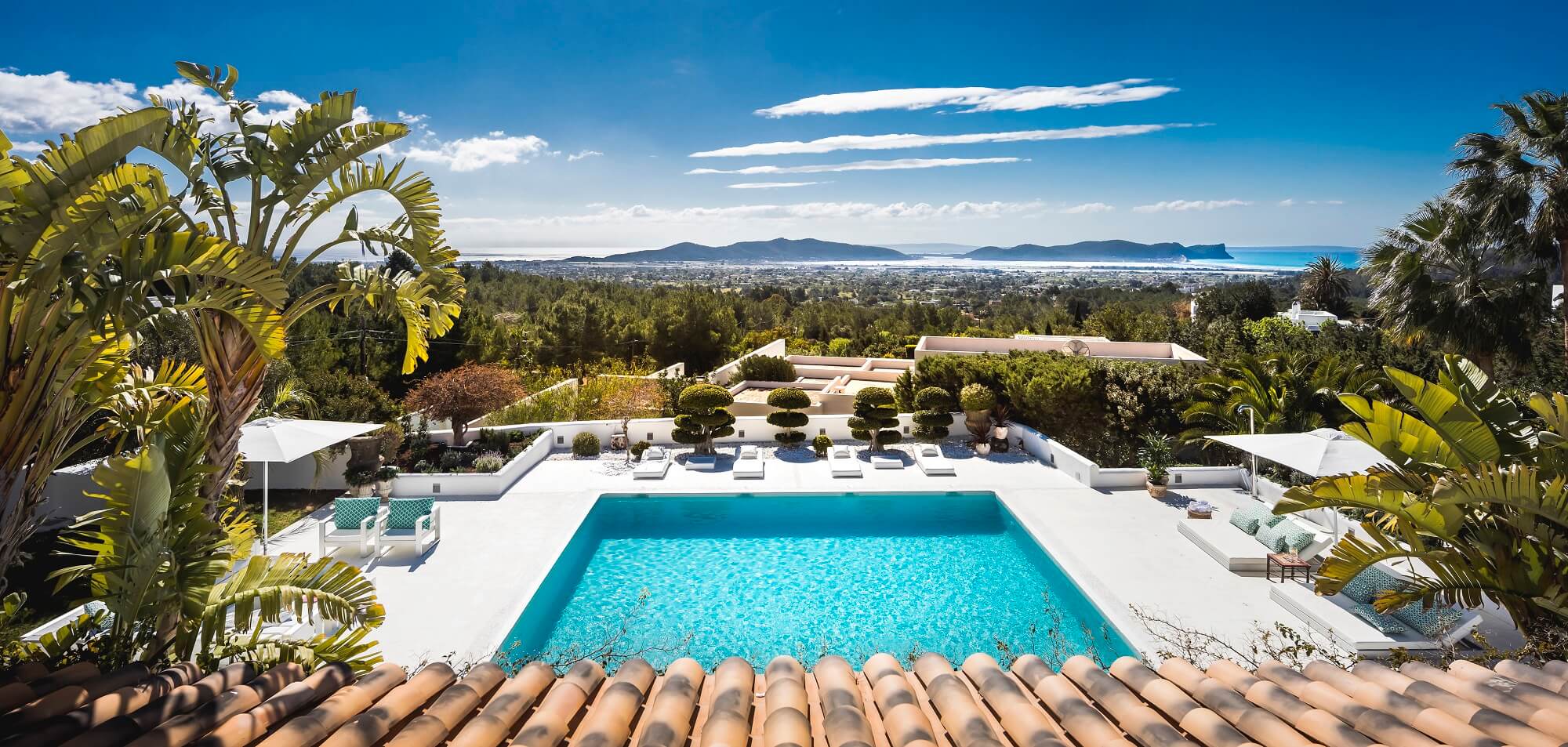 Built in the style of a traditional finca, this stunning luxury villa on Ibiza's south-west coast is set on a sprawling 8,000-square-metre estate. The villa embodies both the rustic beauty and stunning contemporary style of the island, with luminous white surfaces accentuating the flowering gardens, exceptional art collection and enchanting hues of the coastline and sea.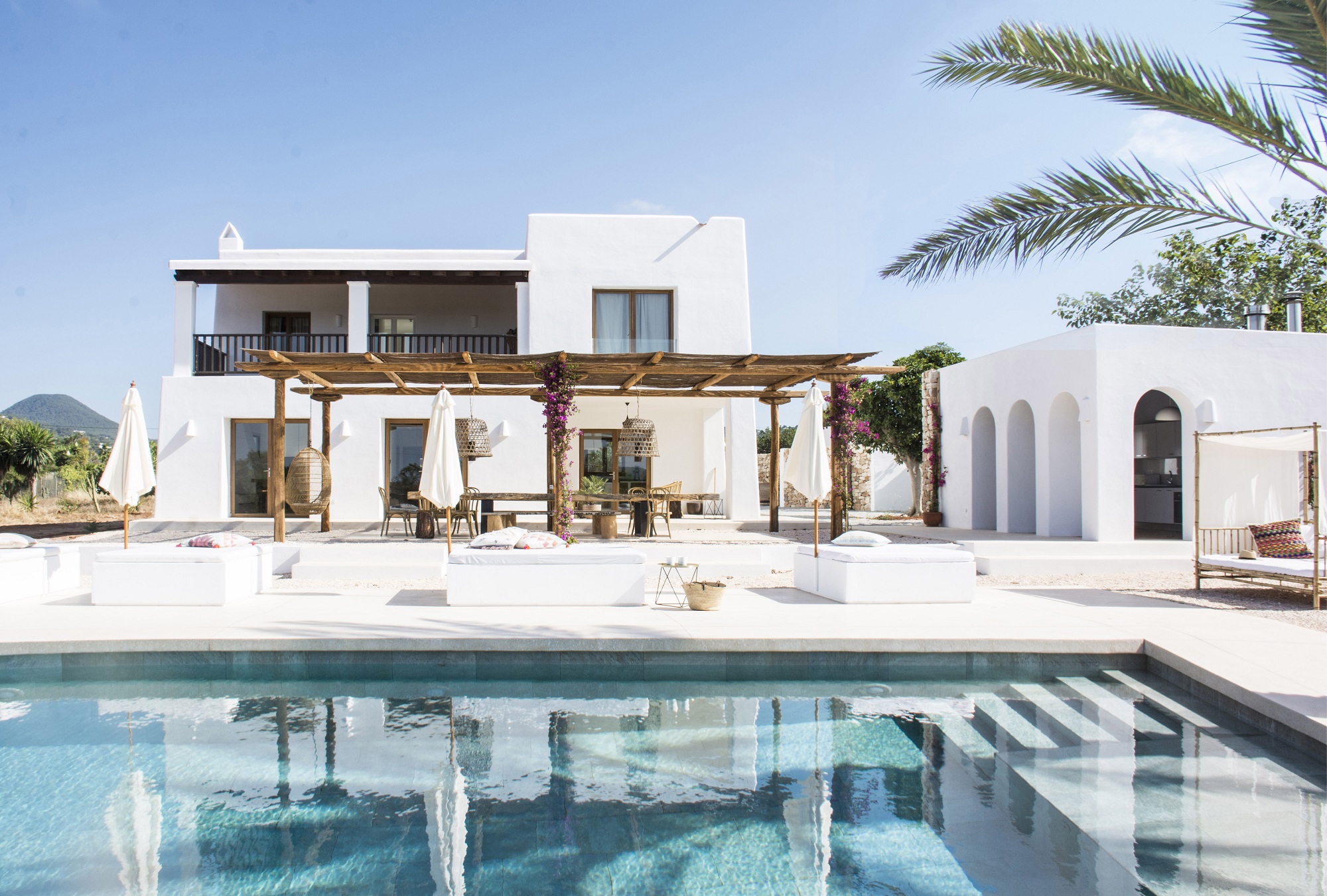 This beautiful eco villa is located in the south of Ibiza, near KM5, the most sought-after area of the island. 5 minutes from Ibiza town, 5 minutes to the most beautiful beaches, 5 minutes to the best clubs and 5 minutes to the airport. The villa has been renovated in the style of a traditional finca and is located on a spacious plot, facing south, beautiful beaches such as Sa Caleta and Cala Jondal can be reached within 5 minutes by car.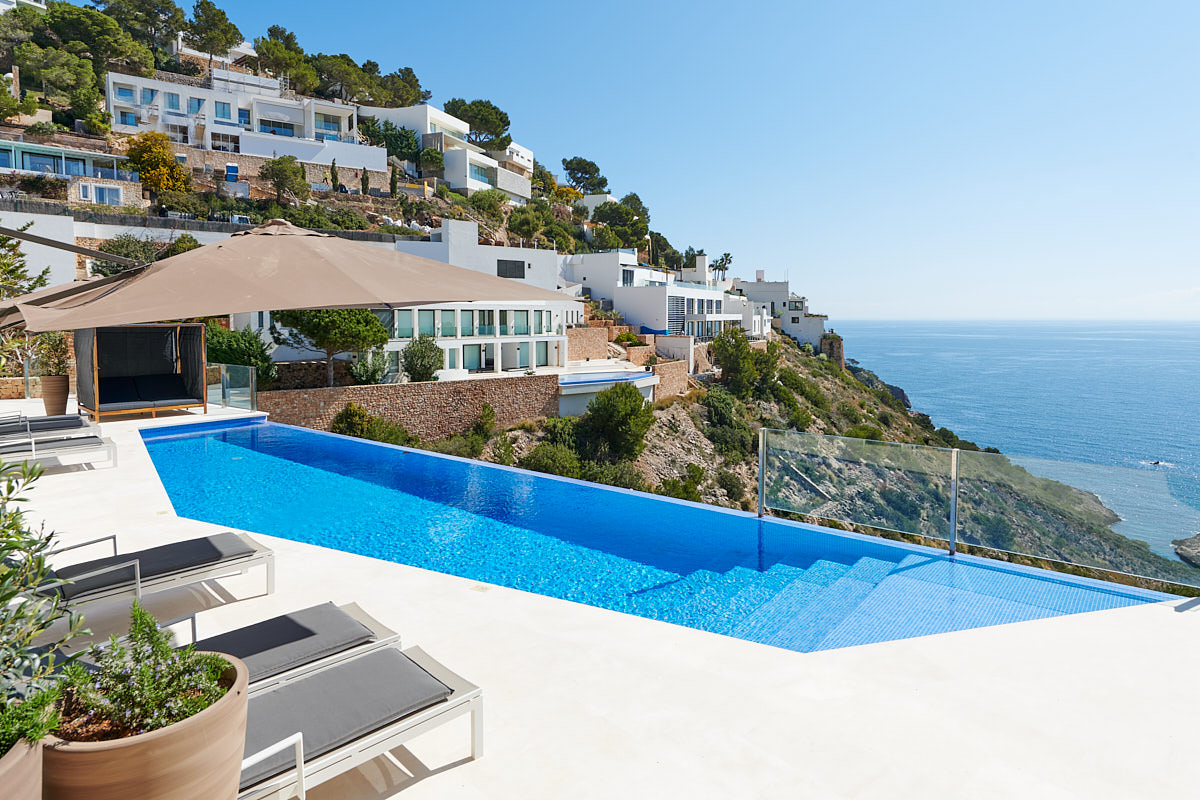 Dreaming away at Ibiza's most beautiful seaview? Casa Ollala is your place to be! Against the rocks of Roca Llisa, surrounded by palm trees, this modern gem stands out. The water of the infinity pool flows seamlessly into the infinite blue sea. In the morning, wake up with a delicious cup of coffee to this insane view… do we need to say more?
High-end villas for large groups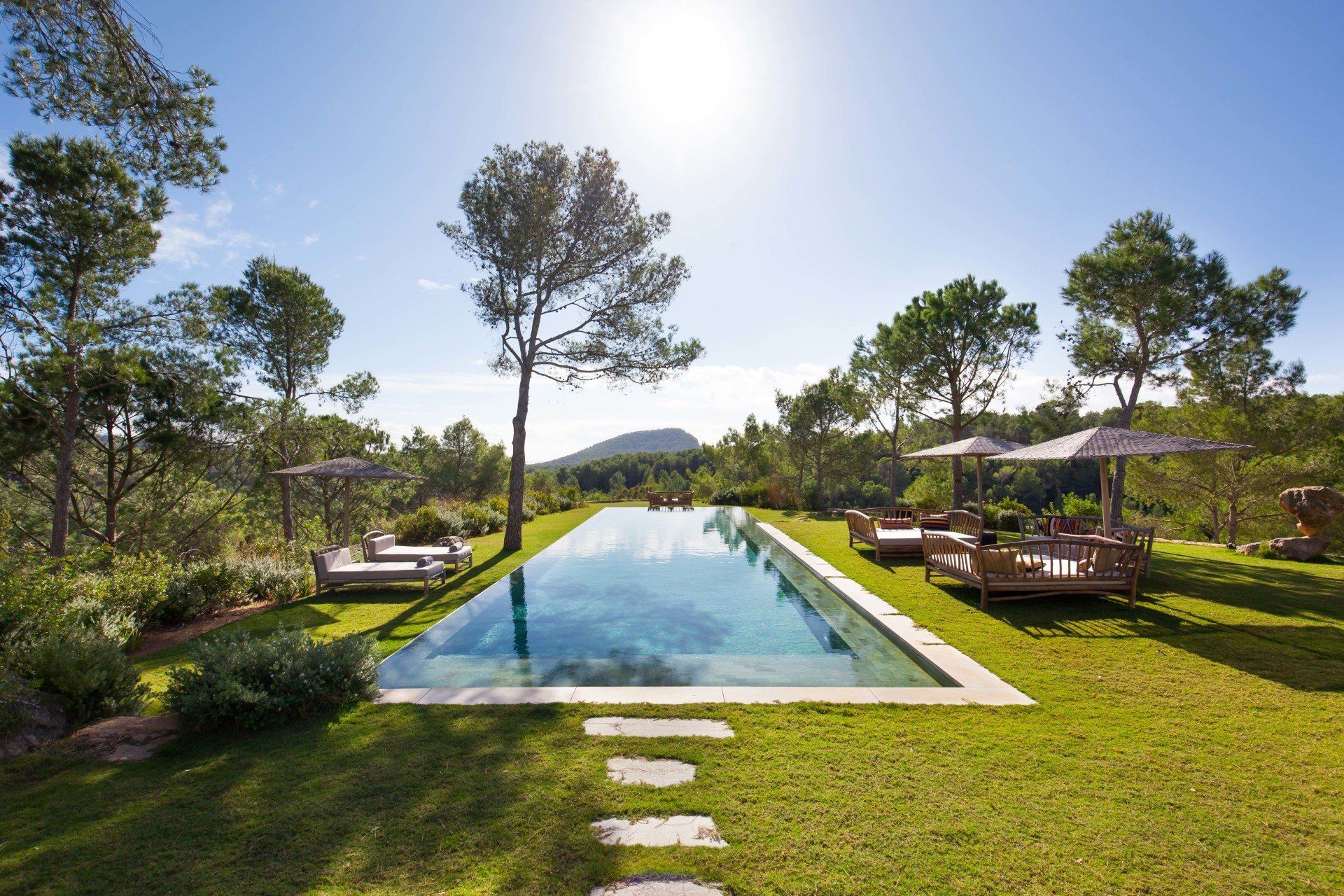 Newly designed luxury villa with panoramic views over the green hills of Ibiza. Located not far from the fashionable Jondal Beach Club and less than 10 minutes' drive from the airport. Villa Candelas features a sparkling infinity pool (18 metres long), a serene relaxation area with more than enough space for a large group and 2 outdoor dining areas. Have a look at more beautiful photos and a video of the villa.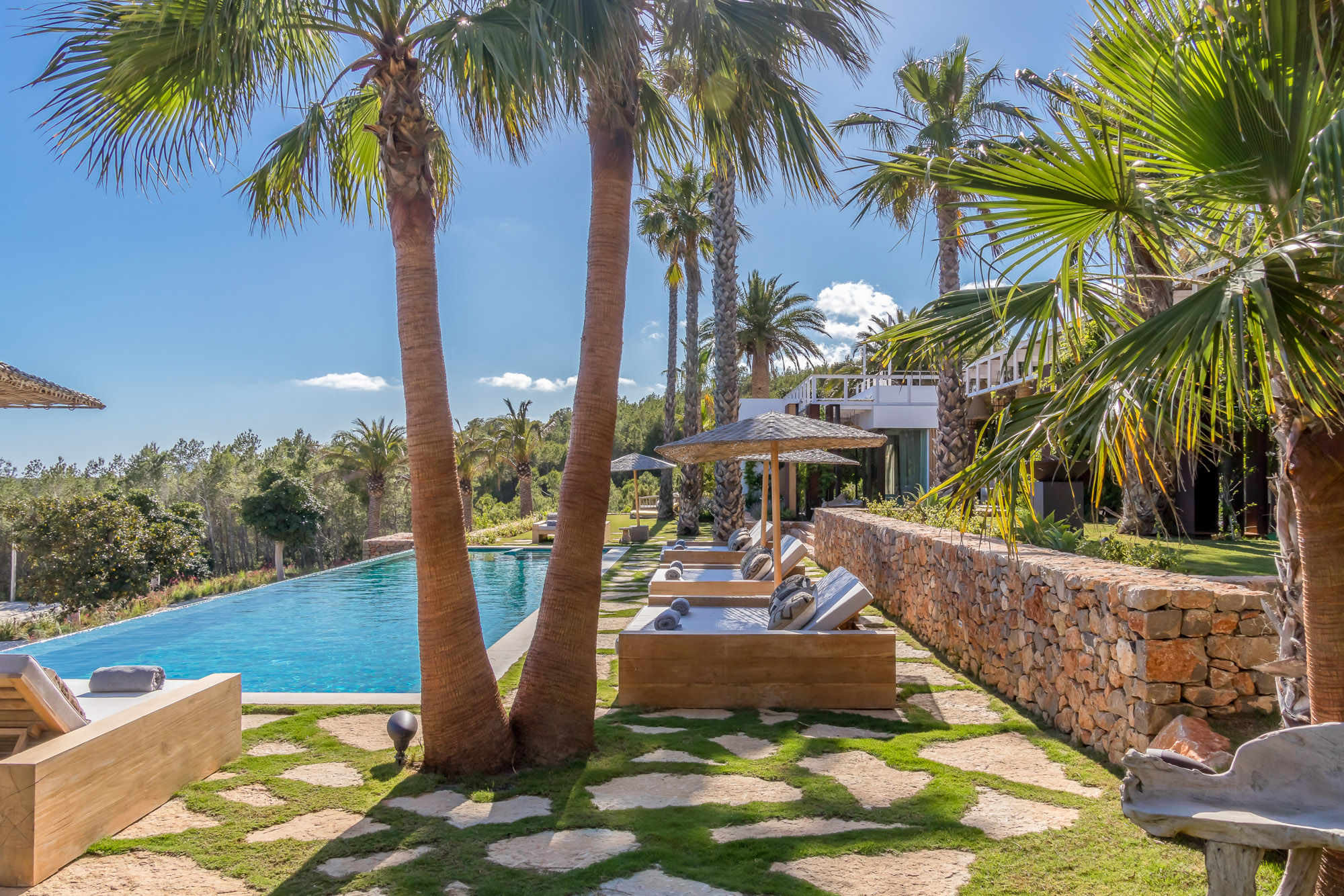 Newly designed luxury villa with panoramic sea views over the island of Formentera and green hills. Villa Baloo features a sparkling infinity pool (18 metres), a serene chill-out area and 3 outdoor dining areas, including alfresco dining in the spacious sandy garden and a rooftop terrace with outdoor dining, a professional bar and a rooftop pool for cooling off. Perfect for a group of 16!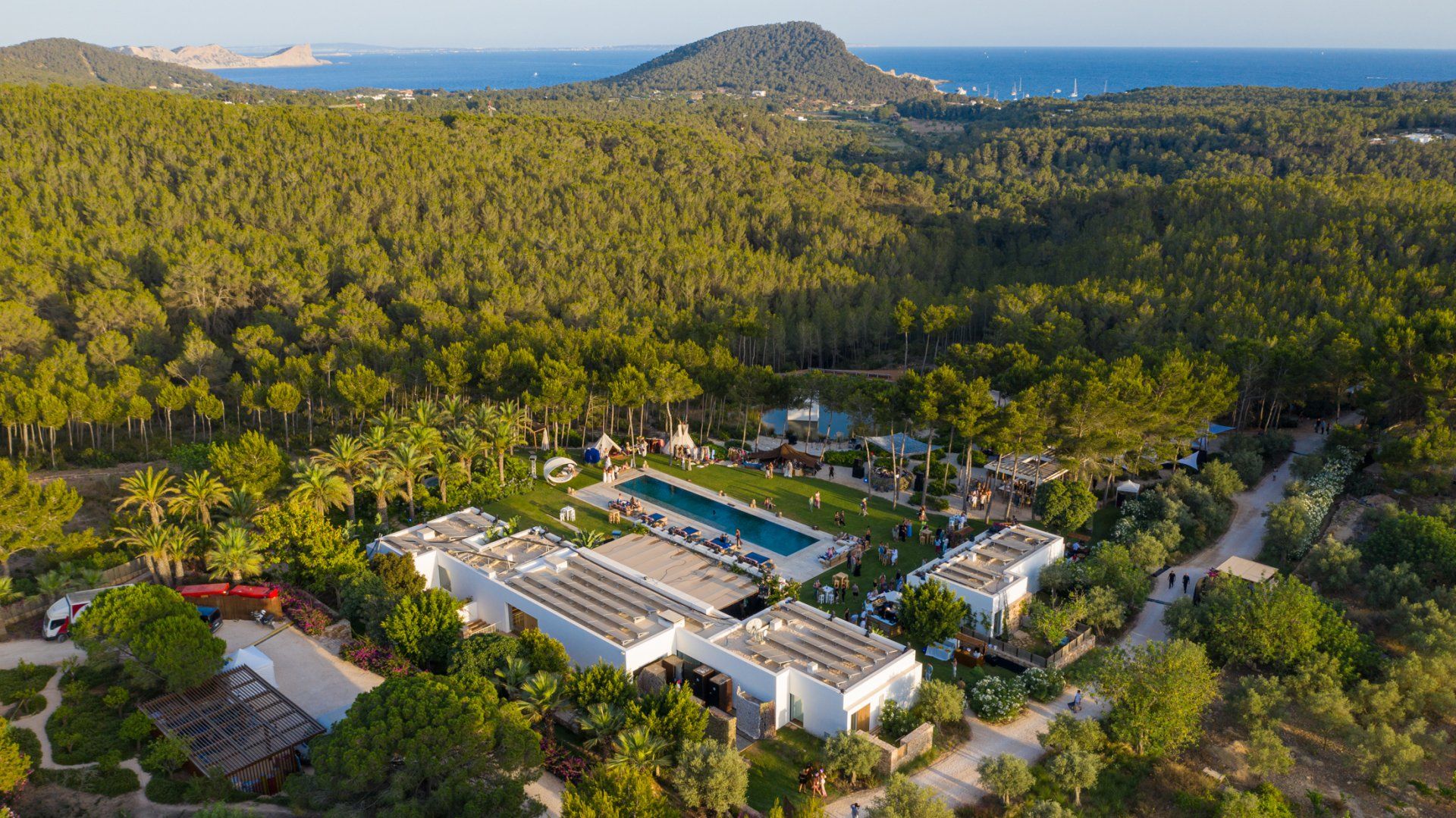 Ca Na Xica is a beautiful villa nestled in the hills on the south-west coast of Ibiza. The villa stretches over 8 hectares of land, with breathtaking views over the hills and a streak of the sea visible between the pines. An oasis of privacy and luxury, Ca Na Xica is designed and furnished to the highest standards. If you are looking for space, Cana Xica is the place for you!
Frequently Asked Questions
Where best to stay in Ibiza with large groups?
A spacious villa. The main advantages of renting a villa are: the extra space, privacy, more facilities, healthier diet options and it is usually cheaper per person than having to book many separate rooms in a hotel.
A hotel or a holiday home in Ibiza?
A villa. A villa is often cheaper per person than renting separate hotel rooms. In addition, you get much more value for money. There is more space, more facilities (washing machine, bathrooms, a spacious garden, communal areas, modern kitchens)... As if you were in your own home! There is also more privacy and you can really enjoy yourself together. In our villas for large groups, there is enough space and privacy for everyone.
Where to stay in Ibiza with a baby?
At the child-friendly villas of OneVillasIbiza. In addition to baby cots and chairs that we can organise, we also make sure there are stair gates, a bathtub, good curtains so your child can take a nap during the day. Or a microwave to warm up a bottle. But of course there are many more things we think about. A pool fence but also things like grass to play on, no precipices, playground equipment and bocce courts. You can filter on these with us to find your ideal home.
Where is the best place to stay in Ibiza?
If you like peace and quiet, the north is your place to be. Here mostly locals live and you can relax at your villa and visit some small villages. If you like a bit more action then the south and east of Ibiza are the best place for you. This is where the bustling Ibiza town is located, the bigger clubs can be found here and there is plenty of choice of fantastic restaurants. Just remember, the island is not big. So even if you are in the north, with a car you can easily explore the island from wherever you stay!