With a design boat towards Formentera?
This boat belongs to our top segment. The Vanquish is a Dutch design boat. These are real high end motor yachts!
Rent vanquish in Ibiza
Vanquish is a luxury yacht brand from the Netherlands. The ultimate luxury boat to tour around Ibiza! We offer a wide range of these boats. Get in touch for more information.
A day on a Vanquish is a really special experience in Ibiza!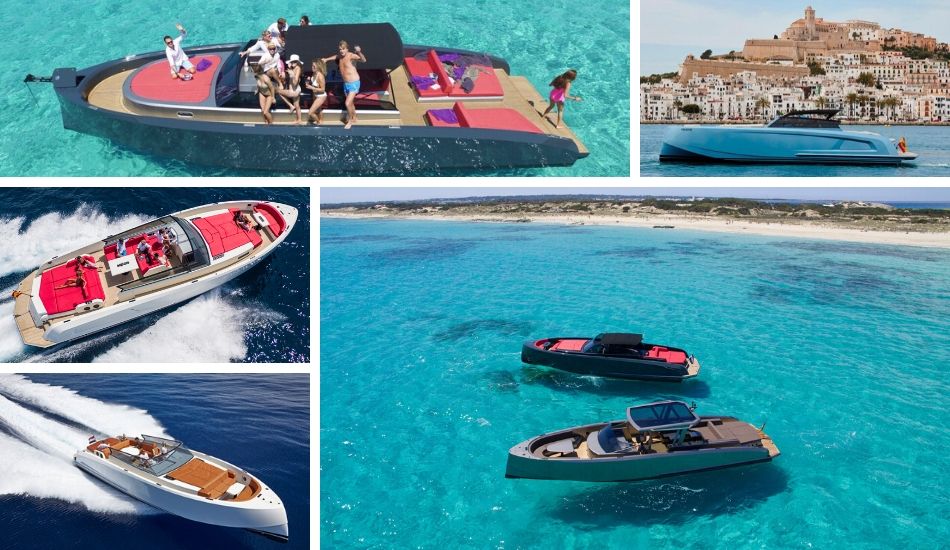 Route
The most requested route is that to Formentera. A lovely island with clear blue sea and pearly white beaches. Along the way you can make all kinds of stops and explore the island. Around Formentera are beautiful caves to pop through. There is a SeaBob, a kind of motorized torpedo that you can hang on and sail under water at a rapid pace!
Lunch
You can choose to have lunch on the way in one of the beautiful restaurants in Formentera. We recommend that you reserve this in time during the high season. Of course you can also bring your own lunch or we can book catering for you on board. Please contact us for this.
Persons
The different types of boats are suitable for 10 to 12 people.
Prices
The prices of the different types of boats range from € 1,650 to € 3,400. Depending on the type and season. Please contact us for a quote. Included in the price is the crew, soft drinks, towels, courtship for you and the boat. The prices are exclusive of VAT (21%) and petrol costs.
The gasoline used amounts to 150 – 250 liters per hour initially from how fast you want to sail. The boat will not be sailing for most of the day.
Request directly:
Request more information directly about these yachts.
Summary
10 – 12 Persons
Prices between € 1650 and € 3400
No hidden costs
Excluding petrol costs
Excluding 21% VAT