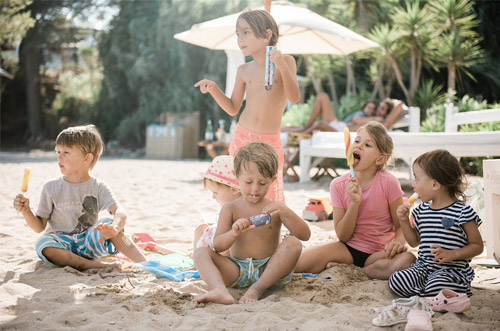 Ibiza with children. The best places, things to do and of course child-friendly holiday homes.
Because we live on the island, and have children ourselves, we know all the nice places on the island. See below the total list for your child-friendly holiday in Ibiza.
Holidays in Ibiza with kids
When you think of Ibiza, you probably don't immediately think of a child-friendly island. It is seen by many people as a place where the most beautiful parties take place. But Ibiza is extremely child-friendly and therefore the perfect destination to go with (small) children. Besides those few places where you may not see yourself with your children, there are so many beautiful fun places to go! On this page you will find tips for a carefree and great holiday in Ibiza with children.
What do we think about with children in Ibiza?
We have made a selection of nice beaches that are safe with children (think: nice sandy beach with long shallow section). We have selected a selection of nice restaurants where you can go with your children without any worry and where they are thought of. And we have listed the necessary fun activities that are great fun with children.
If you want to immediately look at the best houses where you can best go with your children (with playground equipment, table tennis, facilities for babies, or pool fence), take a look here (link to come).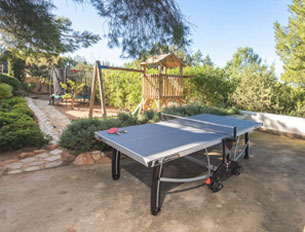 Villa Passion, a perfect house with children.
Best travel time
In fact, all months are fine to go to Ibiza with children, but we can still recommend traveling outside the real high season, if this is possible. April (the sea and swimming pools can still be a bit chilly), May, June and early July are good times, but September and October are also great. If the children are not yet of age to go to school, we can recommend June and September the most. The temperature is actually the best (not very hot, and never cold), the pools are nice and warm, it is not very busy, on the beaches you have space, and the prices of houses are relatively good. If you want to come with the summer holidays, July is often just a bit cheaper and quieter than August!
Transport
It is advisable to rent a car in Ibiza, especially with children. Many houses are not directly on the beach, so a car to a beach or village is often necessary. We don't really recommend driving scooters, and public transport is actually bad. Ask us for a good car rental where child seats are included, so easy!
Child-friendly beaches in Ibiza
Ibiza has 53 different beaches, but not all are equally suitable for families and especially small children. We pay particular attention to a good beach with soft sand, accessibility (so a not too far walk from the parking lot), whether the beach is quiet, and a beach that does not get very deep at once. And preferably also with some extra facilities for parents!
View more child-friendly beaches?
Of course there are more child-friendly beaches in Ibiza. View all child-friendly beaches here.
The best child-friendly holiday homes
View some nice child-friendly holiday homes below. Think of toys, grass, and a fence around the pool.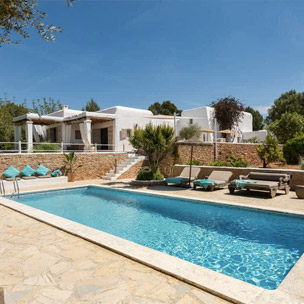 Can truy
The attractive Can Truy has a more or less enclosed swimming pool, but also a climbing frame and table tennis. A family paradise!
View Can Truy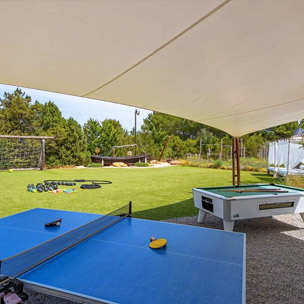 Kate
Kate has lots of grass, but also a lot of playground equipment and a large swimming pool. A wonderful place for the whole family!
View Kate
The best child-friendly restaurants
Where they pay a little more attention to families with (young) children. A kids menu, a safe place, and some space to play.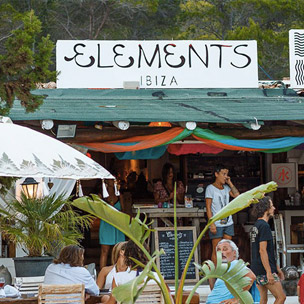 Elements
Elements, located on the beach of Benirras. Great for children to play on the adjacent beach while you are waiting for your dish. Elements also has a cute Boutique shop.
View Elements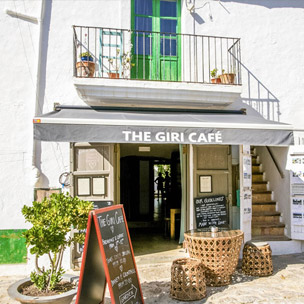 The Giri Cafe
The Giri Cafe, one of our favorites for ages! We especially recommend having lunch or breakfast here with the children. The garden is very cozy with the vegetables that are grown here. A day in Northern Ibiza is not complete without a visit to The Giri Cafe.
View The Giri Cafe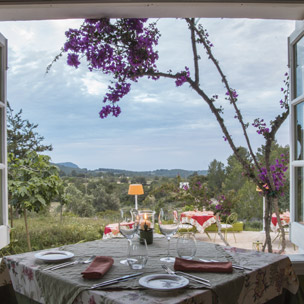 Can Domingo
Can Domingo provides delicious outdoor dining in a rustic environment. Can Domingo is simple food with mainly home-grown vegetables. Perfect for the kids to wander through the extensive gardens.
View Can Domingo
More child-friendly restaurants in Ibiza
Curious about our complete collection of restaurants? View all child-friendly restraurants here.
Fun activities in Ibiza with children
Of course there is also a lot to do for the kids in Ibiza, besides going to the beach. Below a small selection for inspiration!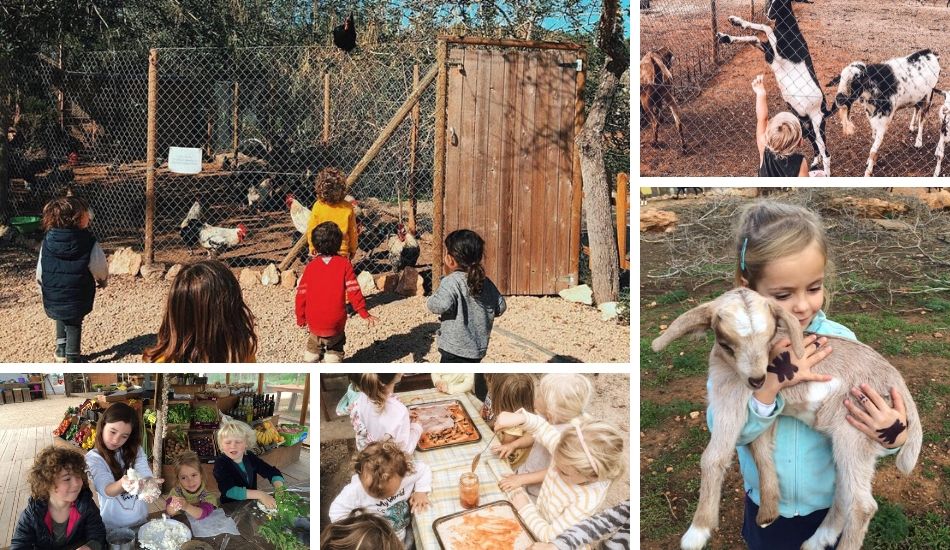 Can Muson
Can Muson is a familiy friendly farm where you can also have lunch. The founder is Maria Mari, born in Ibiza. Helped by her youngest son, she started the ecological finca Can Muson, near Santa Eularia. As a result of Maria's love for animals, she started to keep more and more livestock, in addition to organically growing fruit and vegetables. And when she opened her shop, she noticed that when families came to buy fruit and vegetables, the children wanted to know all about the animals. She collaborated with the nearby schools, where classes came for a kind of excursion and where the children learned everything about the animals. They also received lessons in growing vegetables without insecticides and that is how the "Can Muson school farms" were created.
Nowadays you can also eat and have lunch at Can Muson. They serve traditional Ibicencan dishes made from natural, fresh organic products. She still uses the recipes of her grandparents to maintain the traditions of the island, which are almost lost today in Ibiza. The kids have plenty of space to stroll through the lovely gardens and watch the animals.
You can also celebrate a birthday at Can Muson with a large group of children.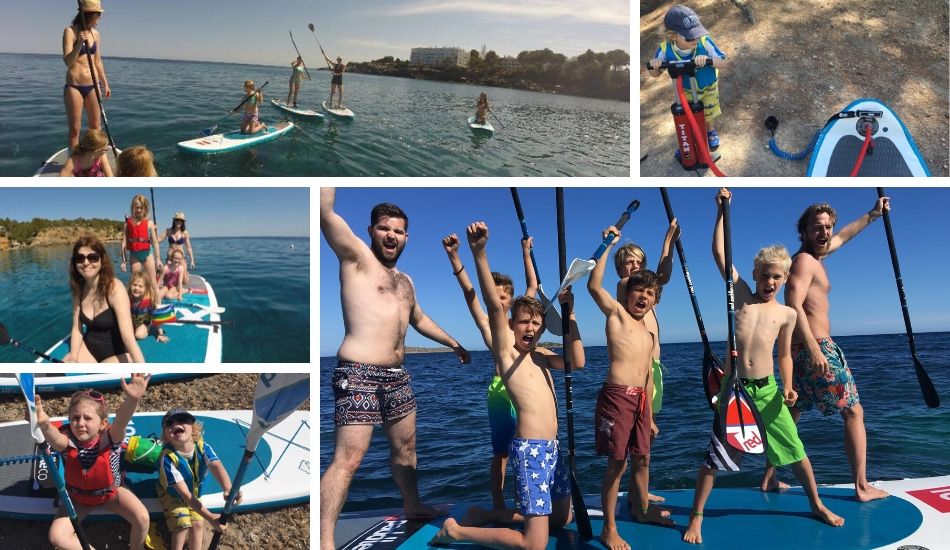 Suppen / paddle boards Ibiza
Supping has been booming in recent years. But it has been around a bit longer! It started in Hawaii in the late 1940s, so that surf teachers could better keep an eye on their surfing students. The reason why paddle boarding is so popular is because it is accessible to everyone. You learn quickly and it is a very good workout.
It is suitable for all ages so you can go out with the whole family. You will be advised on the best locations and you can start all over the island.
The company we recommend is called Paddle Ibiza. With them it is possible to put together your own trip for a personalized experience.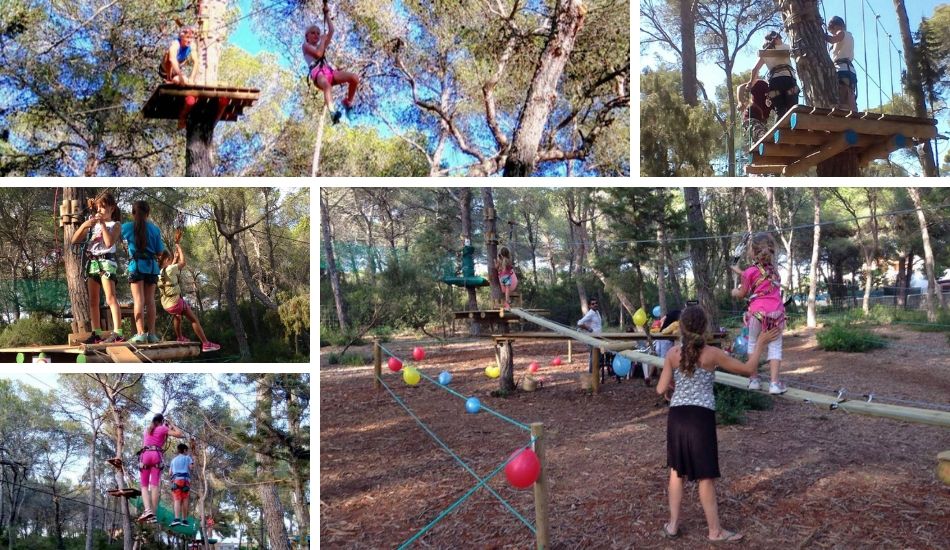 Acrobosc Ibiza
Acrobosc Ibiza is a fantastic outdoor adventure park with activities for young and old. Located in a pine forest just 100 meters from Cala Pada beach, there are three circuits you can take depending on your height and age, challenging your balance and skills. Thirty-nine platforms between 2 and 6 meters high, 49 obstacles and 20 zip lines from 4 to 65 meters long and trampolines guarantee 2 to 2 1/2 hours of fun and adrenaline.
There are several options, starting for children aged 3-5 years, that will follow the green circuit. Then the blue circuit for 6-10 years, and for the elderly the red circuit, 11-18 years.
This nice park, in the middle of the woods, is open from April 1 to the end of October and is located in the east of the island at S'Argamassa. Prices are from € 15- € 25.
Babysitter in Ibiza
Of course you can also contact Onevillasibiza to arrange a babysitter if you want to spend an evening (or day) with your loved ones. Please contact us on the next page.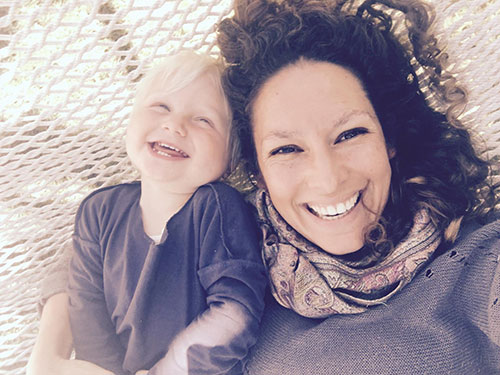 Frequently asked questions
Is Ibiza kids friendly?
Yes, definitely. We know Ibiza is well know for its parties, but many families visit the island. There are kids friendly beaches, restaurants, beach clubs, and baby sitters in case you want to go out one night.
What is the best area for a holiday with children?
We would say the east is the best area. It is a bit more quiet and family orientated. Beaches are more quiet and the sea doesn't get deep quickly. Moreover, the beaches have very soft sand.
What is the best time to visit Ibiza with children
Apart from the family holidays in summer (best to try the beginning of July, or the end of August to avoid peak season), May, June and September and October are more quiet, cheaper, and the temperature is really nice.
Are there any kids friendly villas in Ibiza?
Yes, many have a fence around the pool (or this can be rented), table tennis, gras to play on, and kids toys. Also, some have a heated pool, which is very convenient out of high season when pools can be quite chilly.