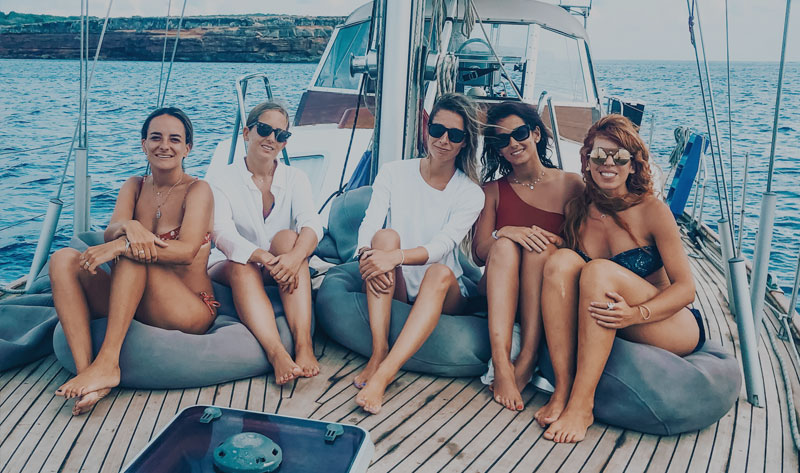 Explore Ibiza and Formentera by sailing boat
Captain Baldo will take you on his own yacht for the ultimate sailing experience. The length of the sailboat 14 meters and thus offers a lot of space on the deck, ideal for a comfortable day of sailing.
Rent a sailboat in Ibiza
Captain Baldo is a real adventurer and likes to show you the best snorkeling spots in the area. With his relaxed character and years of work experience as a captain in Ibiza and Formentera he will ensure that you feel completely at ease on board.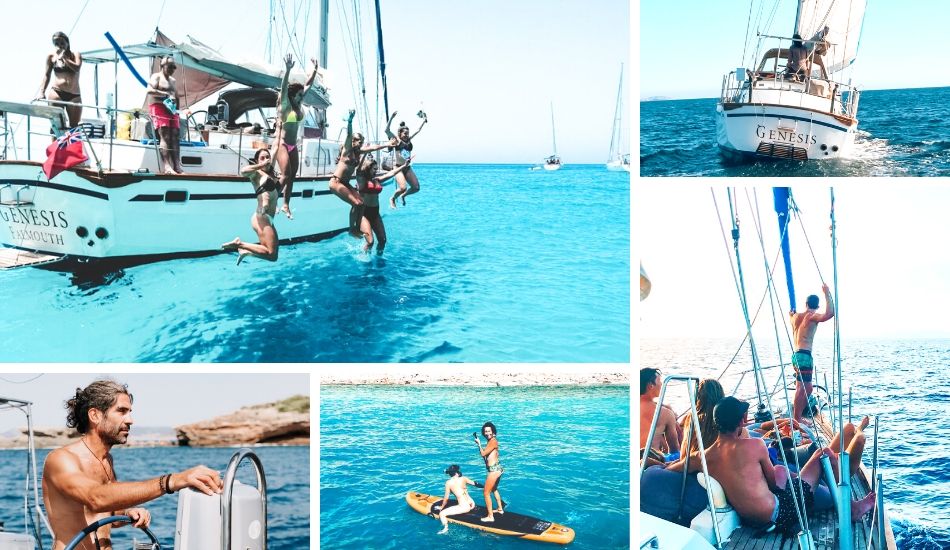 Route
Your boat set sail at 11am from the beach of Las Salinas. You will be brought to the boat by a small motorboat. From here you sail in the direction of the beautiful beaches and clear waters of Formentera. The day will mainly consist of enjoying the beautiful view, taking a refreshing dips at the destination, paddle boarding on the stand-up paddle board, snorkeling and over-all relaxing on board, with or without a drink. Life can be that beautiful! During the day you can moor at various beaches and take a look on land. The boat will return to Salinas around 7am.
Pick up time and destination are also available on a bespoke basis. For example, it is also possible to make a trip along the south coast of Ibiza. The exact route will be determined on the day, taking into account the weather conditions and your wishes.
Extra shade can be provided on board. There is also a stand-up paddle board, snorkels and a music box. The price includes skipper and fuel.
Having lunch
For lunch, there are several options. You are welcome to bring your own snacks and drinks, but you can also choose to moor at a restaurant. It is also possible to opt for catering on the boat, let us know at forehand.
Children on board?
If (especially smaller) children come along on the boat trip, there are a few things to keep in mind:
During sailing the children have to sit for safety reasons. Parents and / or caregivers are expected to ensure that they don't walk back and forth.
The trip to Formentera takes about an hour, after which we drop anchor and the little ones can walk, swim etc. From experience we know that it is often nice to take them to the beach, the crew will take you by motor boat. Life jackets in children's sizes are provided. Having said this, it is also a very fun adventure for young sailors and a suitable outing for the whole family.
Guests
The boat is suitable for 12 people.
Prices
The rate is € 725 in all months for 8 people except July and August. In high season it is € 825.
More than 8 people? The boat can take a maximum of 12 people, for each additional person above 8 € 100 per person is added to the price.
Request directly:
Request more information directly about this boat.
Summary
Up to 12 people
Price starts at € 725, –