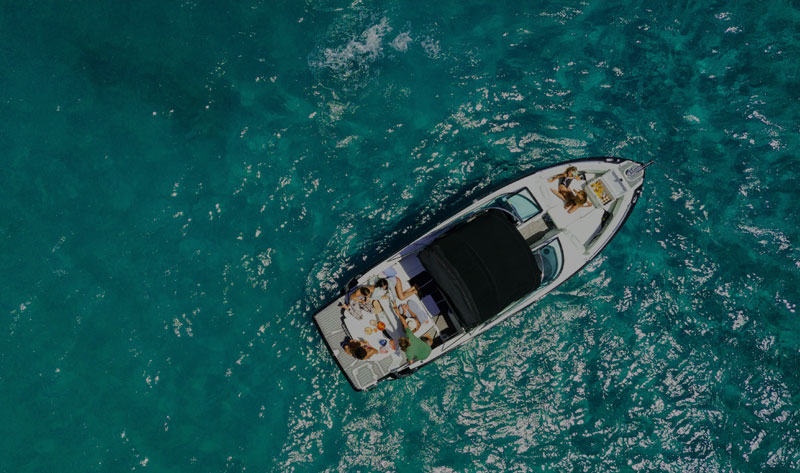 Boating and a lovely lunch
After more than 20 years of working as a chef and running different bars and restaurants in Amsterdam, Erik (your Dutch captain) started this new dream.
The perfect full day..
..wake up, the sun is already shining, grab a coffee and light breakfast. Around 11:00 we meet at the lovely idyllic harbour of San Antonio. On the boat we prepare a little snack and a fresh Bloody Mary for you guys. From that point well be cruising calmly to a stunning spot while you are enjoying the surroundings. Our cool box is packed with refreshing drinks so feel free! At our destination, we throw out our anchor .. here you can take a dive, enjoy some water sports or just chill. In the afternoon we have dinner on the boat, or when you prefer, you'll be dropped off at one of the amazing restaurants that Ibiza and Formentera offer. After dinner we're heading to a new spot where you can relax, grab a paddle board and have some more drinks in the sun or shade! It's all possible 🙂 We'll be back around 7pm!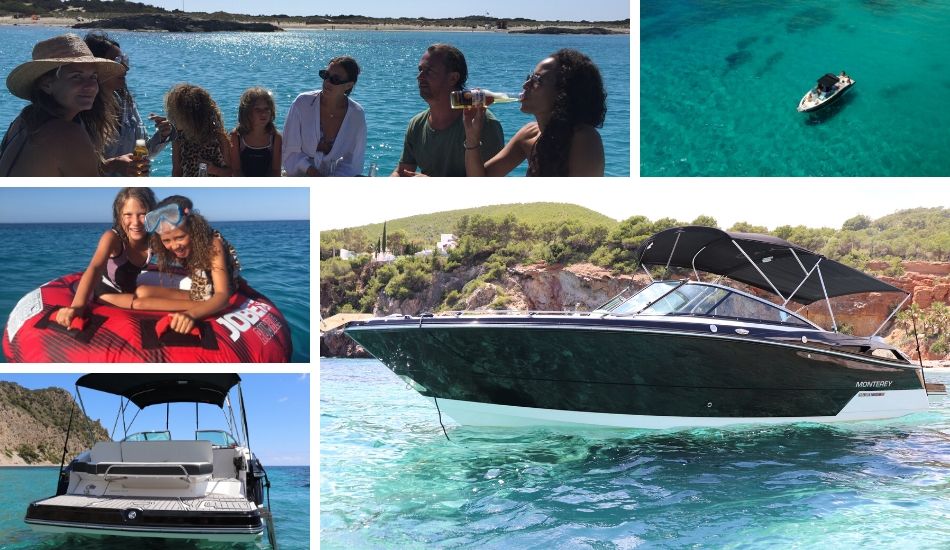 The Monterrey 268 Super Sport
The perfect vessel to create and experience some of life's greatest adventures. Offering sophistication, performance & endless possibilities, the 268SS is loaded with nice features and amenities, satisfying all of your on-the-water dreams.
It has a capacity up to 7 guests and offers lots of space. For larger groups we can add an extra vessel to go on adventure.
Options
Captain, fuel, drinks, welcome snack and fun stuff like paddle boards & snorkelling gear included!
Authentic oriental BBQ, cocktails and other delicious items are also optional. The captain is a really great, former, professional chef. Let us know if you want him to prepare lunch for you (on the boat).
Other options are fishing, snorkeling spots & wakesurfing.
Pricing
Prices are exclusive of VAT. Captain and fuel are included in this.
May & October
half a day – 3,5 hours
Price: €395,-
June & September
half a day – 3,5 hours
Price: €425,-
Juli & Augustus
half a day – 3,5 hours
Price: €450,-
May & October
full day – 7 hours
Price: €695,-
June & September
full day – 7 hours
Price: €750,-
Juli & August
full day – 7 hours
Price: €795,-
May & October
extended day – 9 hours
Price: €850,-
Juni & September
extended day – 9 hours
Price: €895,-
Juli & August
extended day – 9 hours
Price: €950,-
Included
Captain
Fuel
Welcome snack + Bloody Mary
Drinks, sodas, beer, wine & cava
Snorkeling gear
Paddle boards (2)
Inflatable donut
Sun blocker on top of the boat (if required)
Request this boat
Submit the form to request more information.
Summary
Up to 7 guests
Half days & full days
Excluding 21% VAT
Including captain & fuel