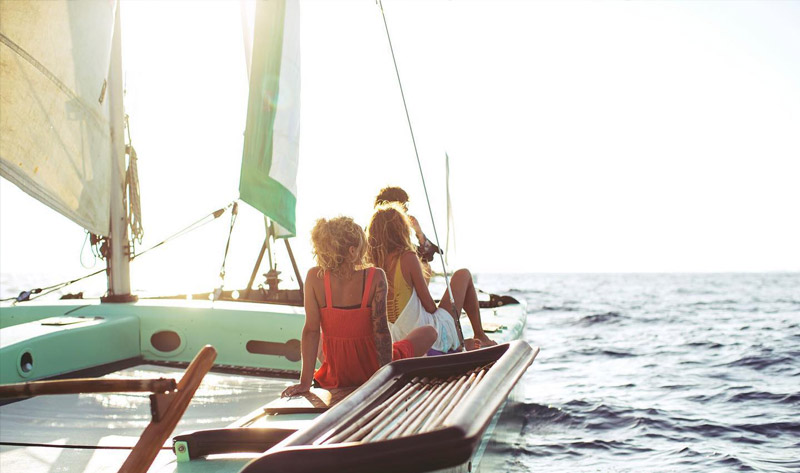 A day at this unique catamaran is one to remember!
Feel one with the elements while you sail across the clear blue waters surrounding Ibiza and Formentera. Visit the most magical places, white beaches and untouched nature on a wonderful and comfortable catamaran!
Catamaran rental Ibiza
La Belle Verde is a Rush10 catamaran, which is designed so it can quickly sail in a moderate breeze. At more substantial wind it's still quiet and stable. For a length of 10 meters the catamaran is very light and with 5 meters wide very stable. It's very spacious on board, the deck consists entirely of trampolines and nets. You can sit everywhere, ideal for a lovely day of sailing and relaxing with friends and family (up to 10 pers). It is also possible to rent 2 catamarans.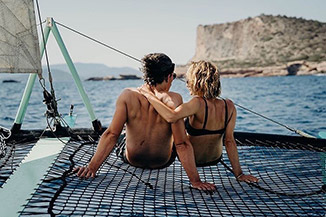 Route
We leave in the morning from the famous Salinas beach, the southernmost beach of Ibiza. We make the crossing to the exquisitely beautiful Formentera: white beaches surrounded by clear turquoise water, beautiful scenery, unspoilt nature and delicious food make Formentera an unforgettable place!
The passage to Formentera takes about an hour and a half depending on the wind. There are several places to be admired including the natural mud bath Es Palmador, beautiful bays and rock formations and a shallow clear blue lake on which we can sail easily. If the wind is favorable we can even visit the very tip of Formentera where we can see an amazing cave. For those with enough guts it's even possible to swim underneath it. Depending on your preference we put together a program for a memorable day.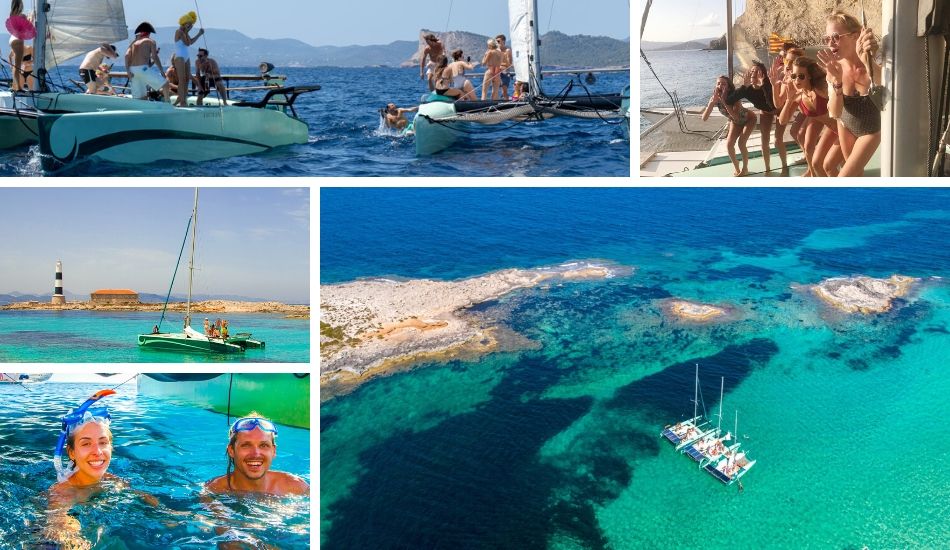 Lunch
As far as lunch goes there are a number of options. We can book one of the 5 wonderful restaurants on Formentera. We can also take a nice picnic that we will provide.
There is a sound installation on board in which smartphones and Ipods can be connected. When we are anchored there will be a "canopy" that will provide shade. Additionally all necessary safety equipment is on board.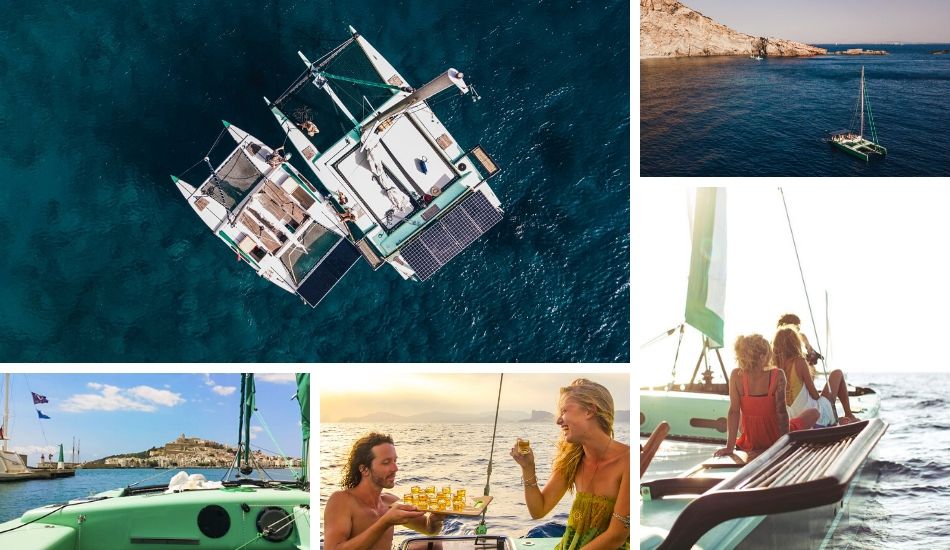 Guests
The boat is suitable for 10 guests. For larger groups 2 catamarans can be rented for a total of 20.
Prices
Prices are flexible, €100,- p.p with a minimum of €700,- excluded VAT.
Summary
Up to 10 persons (each catamaran)
Prices are flexible, €100,- p.p with a minimum of €700,-.
No hidden costs
Excluding 21% VAT