Where to go in Ibiza!
Whether this is your first visit to Ibiza or if you are a regular. Either way, there is always enough to (re)discover. Some people have been coming to the island for many years or even live there, and still find new bits of nature, paths and hidden coves. Ibiza is an island that one could basically simply split in two. It is much busier in the South than in the North, partly because most clubs and beach clubs are located here. And the North is more authentic, more 'the hippie way of life' and yet also – wonderfully – calmer. The island is not that big (about 3 times Texel), but a car is practically a must. It allows you to fully enjoy all facets of island live: good food in the old town of Ibiza, drive towards the west coast for lovely sunsets, wander about at least one hippie market and even take a look at the mystical Es Vedra rock. Amazing what a piece of rock can do! The supply of houses on Ibiza are also very diverse, from the most luxurious villas to ancient fincas.
Ibiza South side (Eivissa, Ibiza Town area)
If you want to be somewhere central, and especially not far from town, then you will love it here. You pick this area if plan on being in town more often. It is somewhat busier there, and houses are often closer to each other. It is also relatively expensive due to many people desiring to be closer to town. Not one house we have is truly in town, by the way, not even in Playa den Bossa, as we are not permitted under Spanish law to rent out apartments.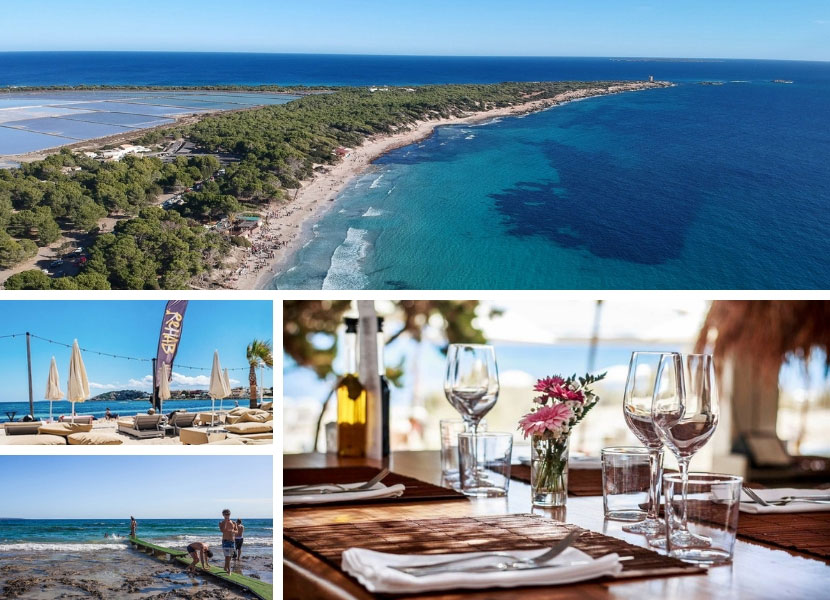 Ibiza's west coast (San Jose area)
Many of our houses are located in this area since it is a popular place. That would also be why it is relatively more expensive than the rest of the island. Es Cubells, especially, is somewhat more expensive. Why? There are many beach clubs in the area, like the Blue Marlin, Tropicana, Cotton Beach Club (and the list goes on); beautiful bays; lovely homes; and you will be a hop, skip, and a jump away from Ibiza Town and beaches such as Es Cavallet and Salinas (approx. a 15-25 minute drive), which also have cool beach clubs like Chiringuito and Sa Trinxa. The location of these beach clubs, beaches, and the city is a reason many flock to here. Whatever the case, it is also somewhat "the place to be". This is considered in the price. If you are looking to switch it up sometimes between going out, delicious dining, and even chilling out for a bit, then this is just the place for that. Also, don't be fooled by the idea its popularity will make the area overcrowded. There is room enough for everyone! The distance to Ibiza Town varies, of course, depending on where you are. San Jose itself is approximately a 15 minute drive from Ibiza Town.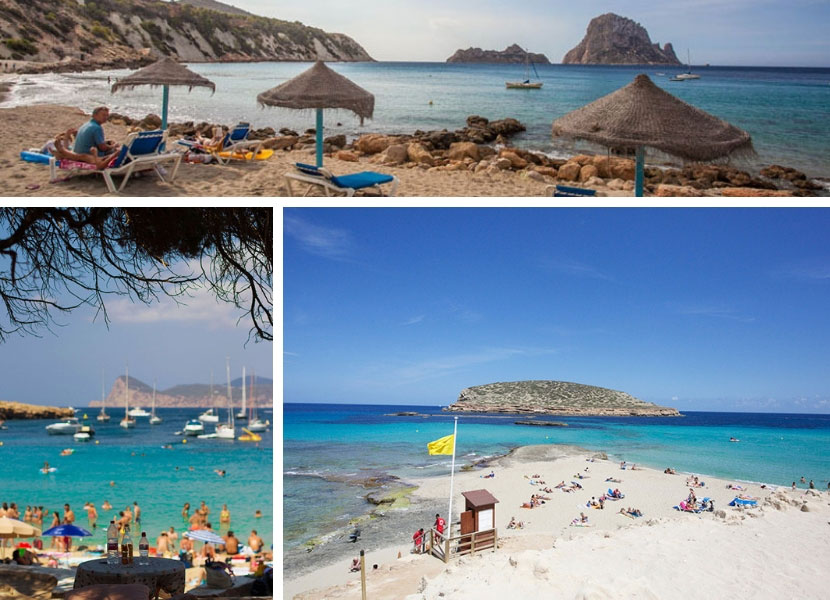 The north of Ibiza (San Juan / San Miguel area)
The North is popular amongst people who frequent crowded beach clubs less and prefer to enjoy the real Ibiza instead. There are nice restaurants in the area, and it is amazingly beautiful there and quieter than other parts of the island. San Juan is a nice village, San Lorenzo is not far away, and you can quickly get to the eastern part of the island where there are nice beaches like Aguas Blancas and Es Figueral. The North also has nice beaches as well, such as Benirras, Cala Xarraca, and Portinatx. It is also a bit cheaper, so you can do more with your money. Often, you will see nice, old Spanish cottages (fincas) that have been renovated into beautiful vacation homes. There are plenty of nice restaurants such as Cami de Balafia, The Girl Cafe, Elements, etc. It is approximately a 24 to 40 minute drive to Ibiza Town.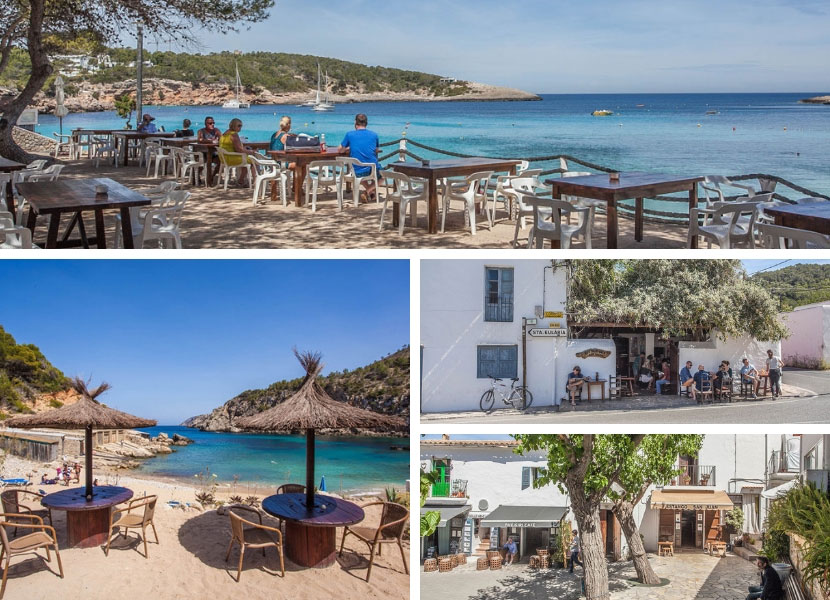 The east side of Ibiza (Santa Eularia / San Carlos)
Santa Eularia is not too far from Ibiza Town,  a short distance away from San Lorenzo and Santa Gertrudis (both nice places with plenty of nice restaurants, especially in Santa Gertrudis), and quite a lot of nice (family) beaches in the area. It is a bit cheaper there than in the West and in the South. There are also plenty of fun (hip) beach clubs in the area. So, reason enough to be on this side of the island! Ibiza Town is about a 15 minute drive away.
San Carlos is a village in Santa Eularia. This is a very beautiful, peaceful area. There are especially many Spanish cottages (fincas) here with a lot of space, which makes it an ideal family spot, since there are many nice beaches in the area and the prices are also relatively lower. So, more space and more rooms for your money. The village of San Carlos also offers a handful of small restaurants and shops, and there are hippie markets nearby. Santa Eularia is not far away, and Ibiza Town is approximately a 25 minute drive.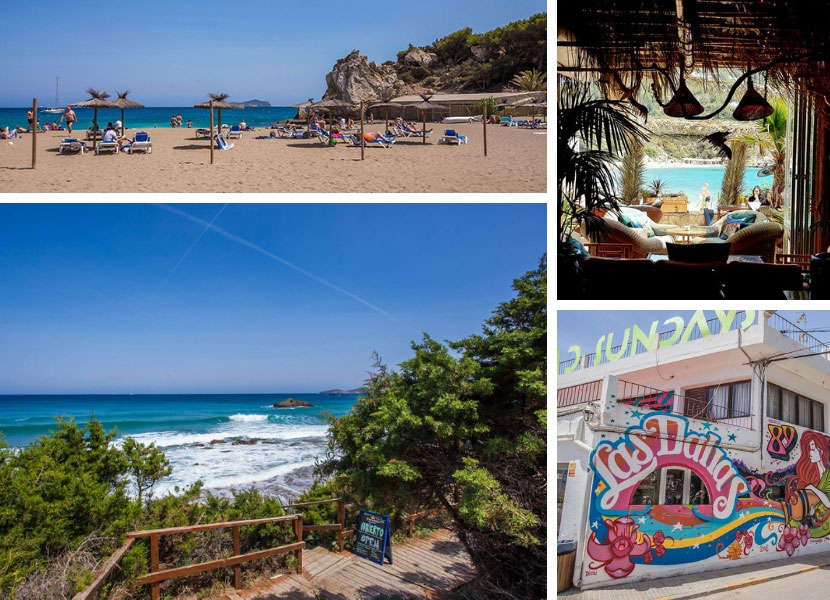 The centre of Ibiza (Santa Gertrudis / San Lorenzo)
A nice, centrally located place, in which case you can be in Ibiza Town in a jiffy. Santa Gertrudis has many nice restaurants and a several small shops. You can also get to San Miguel and beaches in the North and Southeast rather quickly. This place actually has a little bit of everything. All it takes is 10 minutes to get to Ibiza Town.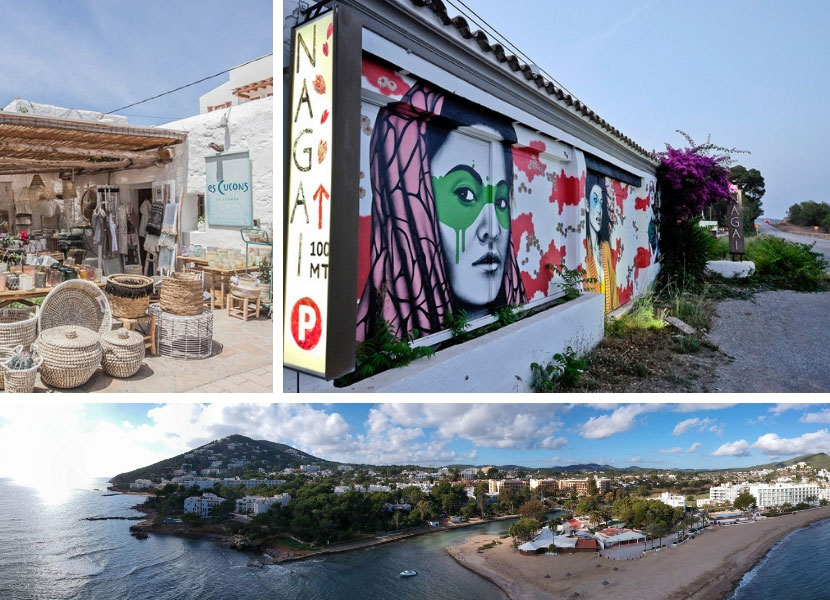 Families
Distributed over the island are many beaches that are child safe (many beaches have life guards). Are you looking for peace and want to avoid the crowds and party people, then we recommend the northern part of Ibiza, at least during the peak season. But the south-west, for instance, (towards Cala Vadella) is also visited by families. Fun activities with children: Ibiza has a water park at Aguamar, one can rent bicycles, go hiking or take the boat to Formentera for the day. For slightly older children, water sports are highly recommended (water skiing, snorkelling, on a banana behind a speed boat) or skating and there are many places where one can rent a paddle tennis or normal tennis court. The Medieval festival in May (Medieval festival) ensures beautifully dressed people (knights, witches and princesses) in Ibiza town. Babylon Beach (Santa Eularia) is an example of a restaurant that has a children's playground where children can enjoy themselves. Places to go: everywhere, but avoid: San Antonio and Playa den Bossa.
Peace seekers
Real peace is hard to find in the public places of Ibiza during the peak season. But many houses are far away from the roads in the countryside, where you can experience Ibiza in peace. Would you also like some more peace on the beaches , we recommend that you skip the peak season. In terms of area, the north and north-east are recommended. Turn into any random little road, and you will feel like you're right in authentic Spanish spheres. Avoid: San Antonio and Playa den Bossa.
Partygoers
Ibiza is not known as a party island for no reason. The best DJs in the world are flown in, the clubs are usually big and widely discussed and the beach clubs offer the best mix of relaxing with drinks and enjoying beats. For dance lovers who love to party, the southern part of the island is recommended, although there is no need to immediately exclude houses to the north. To be sure that you can enter the club at night, you can also order online tickets from us. The far north may be a bit too far away, but up to 20 km above the town Ibiza (around San Lorenzo and San Carlos) is still doable by car – or safer – by Taxi. Places to be: around the town of Ibiza, Salinas, Cala Jondal, southern and central part of the island, Playa den Bossa (busy), San Antonio (many English).
Culinary connoisseurs
Delicious restaurants can be found all over the island. Es Torrent, labelled by many as the best seafood restaurant, is located in the south. Highly recommended for a real Spanish lunch, for instance, is El Bigote at Cala Mastella. Every Thursday you can enjoy a simple, very affordable and delicious paella at S' Argentera in San Carlos. You can dine with a lovely sunset at Sunset Ashram in Cala Conta. Santa Gertrudis, for example, has many different restaurants. And a diner at Lio really shouldn't be missed! For reviews of the various restaurants, click here! Places to be: basically everywhere.
Frequently Asked Questions
What is the prettiest part of Ibiza?
In terms of nature, Ibiza has a lot to offer. Es Vedra is considered one of the most spectacular places. Many of the most beautiful beaches are located in the south and the north is known for its serene vibe and more secluded beaches.. but Ibiza's old town, Dalt Vila, by night is also a very pleasant sight. The island has something for everyone.
Which part of Ibiza is the party area?
Playa D'en Bossa: The main party area of Ibiza is located around Playa D'en Bossa, just south of Ibiza Town. Here big clubs like Ushuaïa, Hï and Hard Rock Hotel Ibiza are located. There are also some clubs such as Ocean beach and Pikes more towards San Antonio.
Is Playa D Bossa or San Antonio better?
San Antonio has a bit more of an international crowd and is further away from Ibiza town. The beaches around San Antonio are considered one of the most beautiful of the island by many. The big clubs are in and around Playa D Bossa. It is considered Ibiza's main party area. It is not difficult to have a good time in either!
Which side is the quiet side of Ibiza?
The north and some places on the east. Cala Llonga. Portinax, Puerto San Miguel and Santa Eulalia are all great bases for a vacation on the quieter side of Ibiza. A good combination of less crowded beaches, bohemian vibes, plenty of nice restaurants and beautiful nature. Ibiza is not too big, so if you would like to find some buzz it's only a short drive away.
Which part of Ibiza is the best for couples?
For a more romantic getaway, we'd advise to stay somewhere on the north side of the island. Between San Josep all the way up to Portinatx. On this side of the island the sun sets, and you're guaranteed to have many magical evenings. It's a little less crowded than the east and some of the most beautiful beaches are located on this side. There are plenty of charming restaurants and beach clubs to be all lovey-dovey. Use our handy filter to find your romantic getaway in that area.
Which part of Ibiza has the best beaches?
The south-west coast of Ibiza has some of the most beautiful sandy bays on the island. Cala Conta has crystal clear water, and Cala Vadella and Cala Tarida are family-friendly beaches with some nice restaurant options.