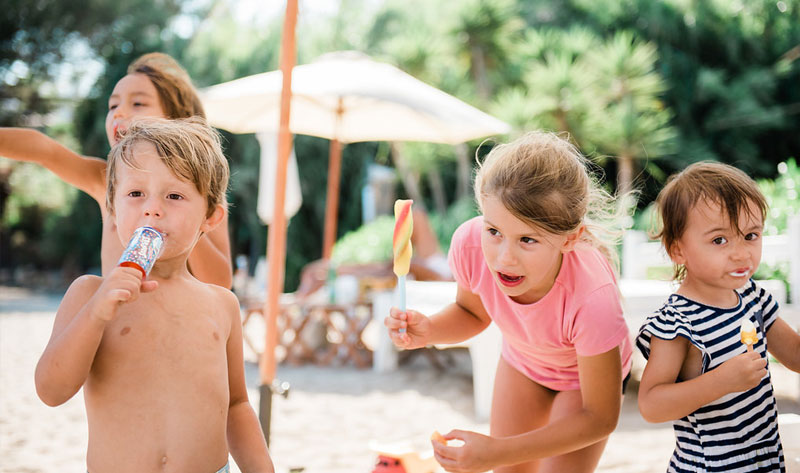 The best child-friendly beaches in Ibiza
When are beaches fun for families with children? These are beaches that have fine soft sand, with a sea that slowly gets deeper. It is also nice if there is a lifeguard, and if there is a small bar so that you can quickly satisfy a child with thirst :). We also choose relax beaches over crowded beaches with lots of young people that come to party. Meaning you will want to be a bit further from Ibiza Town in general. See our recommendations below!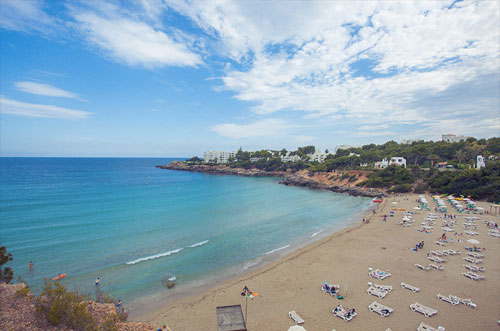 1. Cala Llenya
This is truly the perfect family beach. The beach is long and wide and therefore there is a lot of space to play. The beach is sheltered from both sides, so there are few big waves. The water remains shallow for a long time. On the beach of Cala Llenya there are several picnic tables and eateries where you can buy some snacks. It is also nice that there are always many children here so there is always someone to play with. Dogs are also welcome on this beach.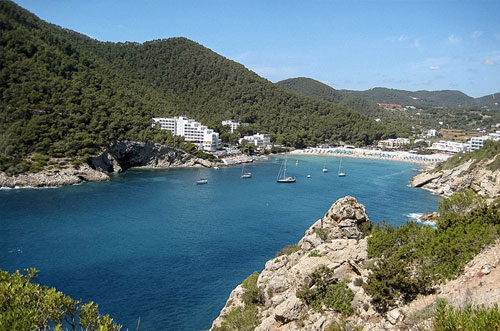 2. Cala Llonga
Cala Llonga is also a very suitable beach for children. The water is very clear and shallow for a long time. Like Cala Llenya, Cala Llonga is a sheltered bay. The beach is very wide and long with sufficient leeway. The beach is located on a boulevard with many different shops and restaurants. For the early birds also a nice place to watch the sunrise.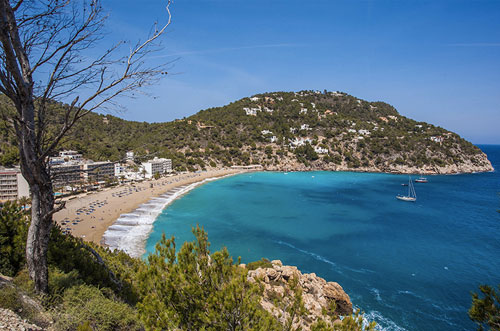 3. Cala San Vicente
This is one of the most northern beaches on the island. The road to it is beautiful with several beautiful viewpoints. San Vicente is a golden sandy beach with a lot of space to play. You can also rent pedal boats and canoes etc. here. There are sunbeds and umbrellas for the parents and lots to do for kids. Around the promenade are several shops to buy some snacks. It is nice to combine Cala San Vicente with a visit to The Giri Cafe in San Juan and hidden beaches such as Cala den Serra and Cala Xarraca.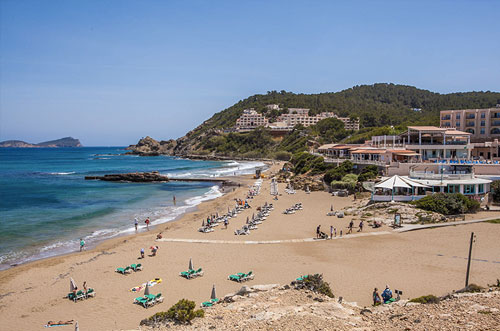 4. Es Figueral
Es Figueral is an elongated sandy beach in the northeast of Ibiza. A typical family beach. In the middle of a beach is a walkway to a rock. This is a true hotspot for kids to catch crabs. This is also a perfect beach for snorkeling. The water remains shallow for a long time and the sand is very fine. There are two restaurants to quench your thirst.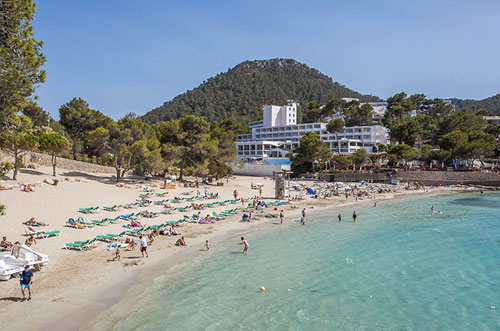 5. s' Arenal Gran
This beach is located in the tourist village of Portinatx. A very popular family place thanks to the resorts in the area. Arenal Gran is a wide beach with many fine sands of clear water. This is also a very nice place for snorkeling, especially the right side of the beach near the rocks is popular. There are several shops, bars and restaurants in the area.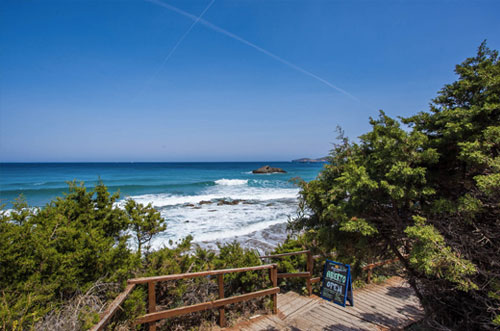 6. Aguas Blancas
This beach is not suitable for toddlers and preschoolers. For older children it is wonderful to bodyboard in the waves here. It is not a wide sandy beach like the others but wonderful for snorkeling and exploring the rocks surrounding the beach.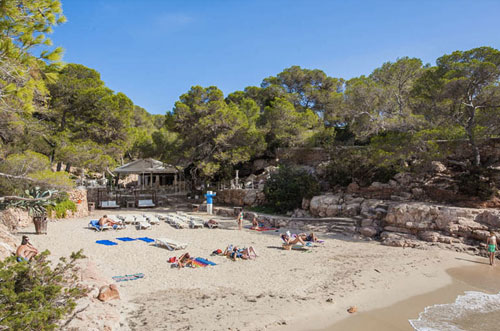 7. Cala Nova
Cala Nova is easy to reach and is next to Cala Llenya and Platja de Es Canar. A nice beach, with beach clubs such as the Aiyanna (highly recommended!) and Atzaro beach club (Atzaro Chirinquito is more advisable with children by the way). Sometimes you can even surf this beach if there are some waves.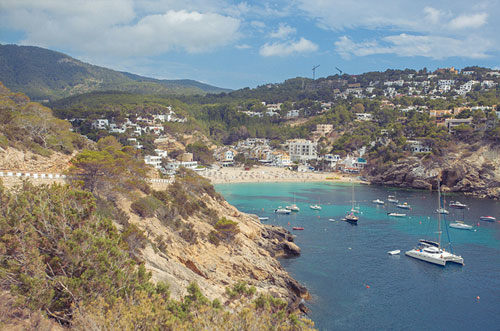 8. Cala Vadella
The road to Cala Vadella is beautiful. Long languid bends and beautiful views. Cala Vadella is a popular beach for the whole family. For the parents there are a number of restaurants and beach beds with umbrellas. Children have plenty of room to play on this wide beach. In high season there are also buoys in the water with nets where you can not swim further. A number of shops can also be found around the beach.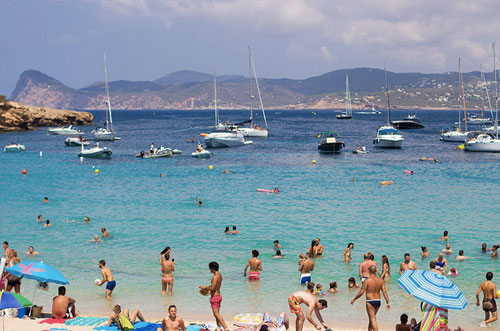 9. Cala Bassa
Cala Bassa is very popular with families. It is a large bay with lots to do for children. A lot of hide and seek is played in the dunes and forests behind the beach. In the water there are many different coves to play in. The water here is shallow for a long part. The buoys indicate where it is safe. The parents can have fun at Cala Bassa Beach Club which takes up a large part of the bay.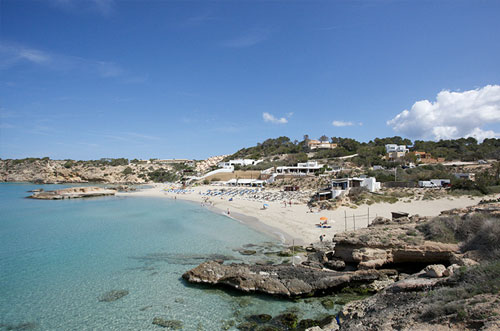 10. Cala Tarida
Cala Tarida is one of the most beautiful beaches in Ibiza. The water here is crystal clear up to a point off the coast. In the bay there are a number of rocks that children like to play around. It is also possible to rent pedal boats (including slide) here. Guaranteed fun for the kids. There are also shops to buy some drinks. Slightly higher up here is Cotton Beach, a popular beach club.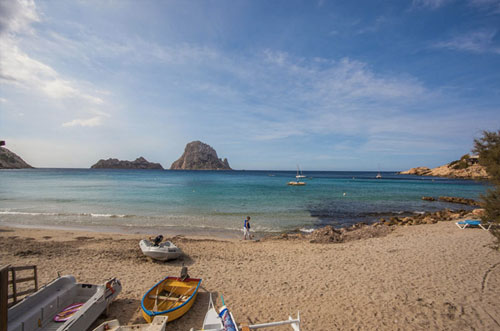 11. Cala d'Hort
Cala d'Hort is located near the iconic Es Vedra rock. A wonderful beach for children to play around the rocks in the water. Catching fish and crabs is very popular here. The sand here is very fine and therefore suitable for playing.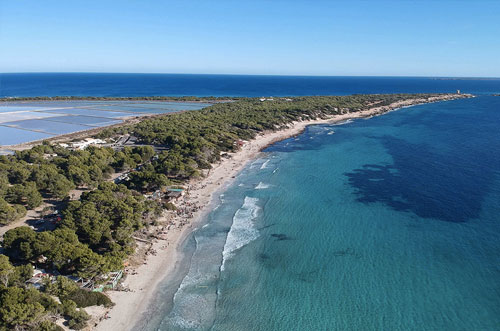 12. Las Salinas
This is of course one of the most famous beaches in Ibiza. Salinas is also great for children. The water here is clear and not deep for a long time. Many small fish swim around the rock formations in the water. Furthermore, there is a lot of space for children to play. The beach itself is very large so be careful of not losing your children. Las Salinas is also the starting point from which many boats are rented. In the back of the dunes is also a popular place for the children to play hide and seek.